National biscuit shortage eased by 2nd Boeing 777 relief plane
Published time: 9 Mar, 2016 13:06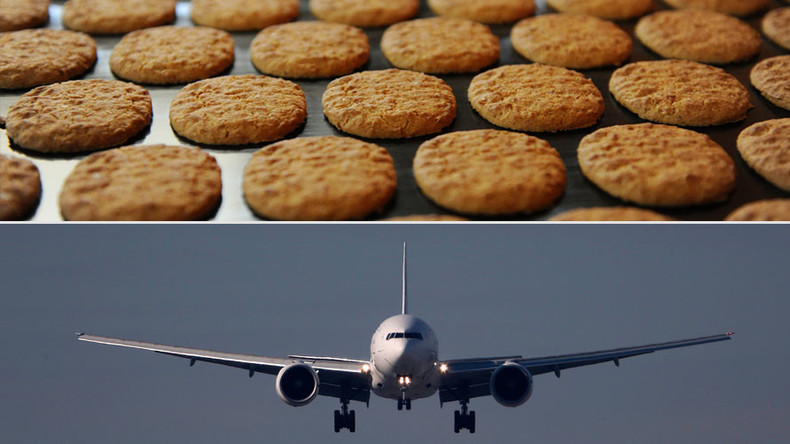 A plane filled with biscuits has arrived at Doncaster's Robin Hood Airport to ease Britain's national shortage of the baked goods.
It is the second plane in as many weeks to deliver a precious cookie cargo, after one of the nation's biggest biscuit factories was damaged by flood waters over the winter.
"There has been a lot of press coverage about Britain's biscuit shortage following the floods in December and we are pleased to hear that the factories hope to be up and running again this month," cargo manager for Doncaster Sheffield Airport, Dayle Hauxwell, said.
"In the meantime we've been delighted to welcome two flights from Emirates full of the nation's favorite biscuits.
"We've welcomed all sorts of different cargo over the years from a pride of lions to last year's consignment of tea, this time we've quite literally 'taken the biscuit!'"
Hauxwell also explained that the planes are the first ever deliveries from Emirates SkyCargo, a cargo airline based in Dubai, to arrive at the airport. He welcomed the "new relationship" and thanked the airline for ensuring the British public could still enjoy their staple treats.
"We were delighted to welcome Emirates to Doncaster Sheffield Airport. This new relationship shows that our cargo operations are going from strength to strength and our reputation for handling cargo flights from around the globe is growing," he said.
"Thanks to this new relationship the Great British public have been able to enjoy a biscuit with their cuppa."
Brits have endured the biscuit shortage since December when the McVitie's factory in Carlisle was left damaged by Storm Eva and Storm Desmond, which battered the north of England during the Christmas period.
Shelves where Britain's most popular biscuit brands should have been stacked stood bare, forcing the nation to cut down on its 34,000 ton per month habit.
Retailers and producers hope the shortage will begin to ease by the end of March.