'Human rights abusers' invited to 'non-lethal' weapons show, condemned by activists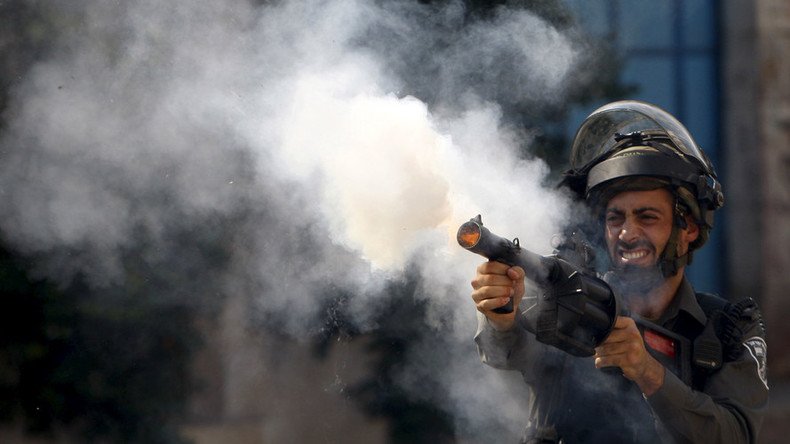 Activists have denounced a Home Office sponsored security fair, warning that Britain is selling tear gas and other crowd control tools to some of the world's most oppressive regimes.
Among the governments invited to take part in the fair in Farnborough, Hampshire, 30 miles southwest of London, are Bahrain, Saudi Arabia, Israel, United Arab Emirates (UAE), Egypt and Turkey, the Guardian reported on Saturday.
Police and security officials from 79 countries are expected to participate in the fair later this week, according to the list, which was released under a Freedom of Information request.
Since Prime Minister David Cameron took office in 2010, the UK has approved 126 licenses connected with the sale of tear gas and other irritants, according to the Campaign Against the Arms Trade (CAAT).
Also approved were 75 licenses for crowd control ammunition such as rubber bullets, 79 for "acoustic" crowd control – known as sound grenades – and 259 licenses for riot shields.
CAAT spokesman Andrew Smith told the paper: "There are serious questions to be asked about the impact of the so-called 'non-lethal' arms industry. These risks become even more important when these weapons are being sold to human rights abusers and dictatorships."
"A number of the countries in attendance routinely practice torture, arbitrary detention and other appalling acts of violence. The UK should not be arming these regimes and selling them the means to oppress and kill."
"[The event] undermines the UK's claims to be promoting human rights while strengthening the position of repressive regimes."
Defending the trade show, the Home Office said: "A thriving security industry is vital to help cut crime and protect the public and so it is important these products and services can be showcased and expertise shared."
Described by organizers as "the perfect place to see the latest security equipment and technology in a secure environment," the Security and Policy fair will be held behind closed doors, with all visitors "pre vetted to strict Home Office criteria."
You can share this story on social media: