Gove cites 'Hitler worshipers' & terrorism worries as reasons for Brexit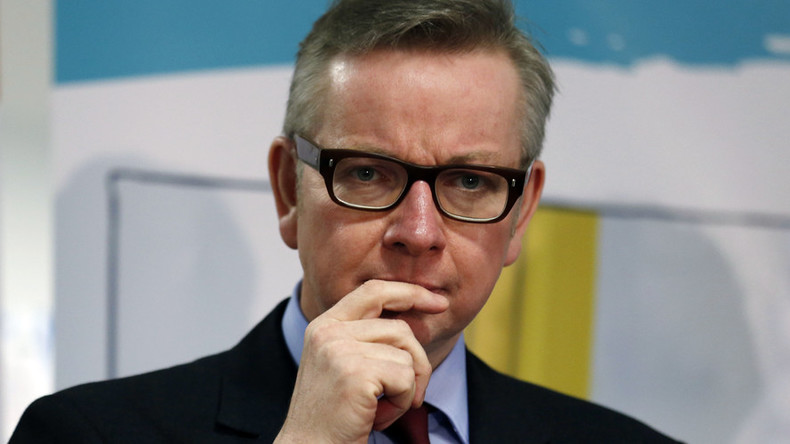 UK politician Michael Gove, who is campaigning for a British exit from the EU, said the bloc is damaging Britain's safety, and Brussels is helping to fuel the worst rise of fascism since the 1930s with increasing numbers of "Hitler worshipers" in Europe.
Conservative politician Gove, the UK's justice secretary, said in an interview with the Sunday Times that the European Court of Justice has undermined the ability of UK intelligence agencies to monitor terror suspects in the UK.
Speaking to the Sunday Times, he said that EU courts are taking "decisions that are against our interests" by dictating "what our spies can do and whether we can be kept safe."
"Our security and sovereignty stand together. I believe that there are better opportunities to keep people safe if we are outside the European Union."
Gove added the EU has taken "decisions that are inimical to our ability to mount serious surveillance operations against terrorists.
"The power to take decisions about deporting people or about counterterrorist surveillance is being taken away from the UK."
The politician also contradicted British Prime Minister David Cameron's viewpoint that the UK will be "stronger, safer and better off" if it votes to remain within the EU.
"I think overall our national security is strengthened if we are able to make the decisions that we need and the alliances that we believe in outside the current structures of the European Union," Gove told the Sunday Times.
London Mayor Boris Johnson, who said that EU rules were "prejudicial" to British security, supported him. Johnson added that the regulations were hampering the ability of London to deport those convicted of terrorism.
Gove also condemned the rise of extremist politics across the EU.
"The far right is stronger across the continent than at any time since the 1930s because of the EU. Golden Dawn in the Greek parliament are explicitly Hitler worshippers and that is a direct consequence of what has happened with Greece and the single currency," he said.
Cameron has been heading a campaign to remain within the EU and according to new polls published by YouGov, surveys from March 1, 2 and 3 show that those wishing to remain in the bloc are in front by 2, 5 and 3 points respectively. At the end of February, those campaigning to leave had established a nine-point lead.
On June 23, Great Britain will hold a referendum on its EU membership and the migration issue seems to be the strongest weapon for advocates of Brexit. One of the concessions the EU made to try and keep the UK in the bloc is cutting social benefits for EU migrants in the UK.