'Grassroots Out!' Galloway & Farage team up for massive Brexit campaign day of action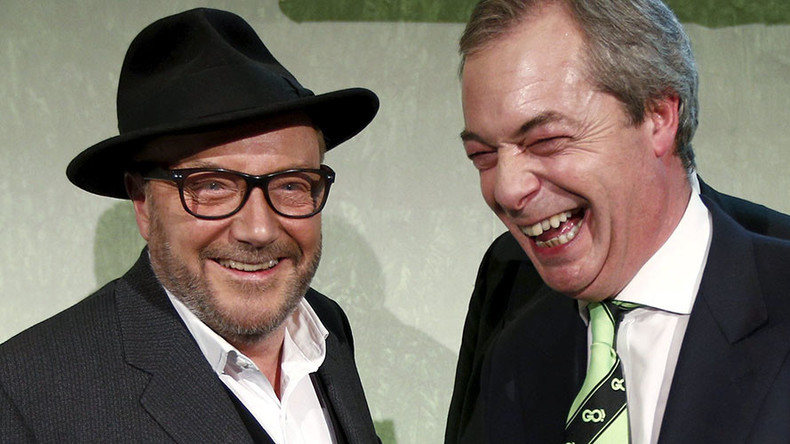 Activists campaigning for Britain to leave the European Union (EU) will take part in the biggest ever day of leaflet distribution in referendum history on Saturday, the Grassroots Out (GO) campaign has announced.
GO is one of three main anti-EU groups vying to represent the official 'Leave' campaign. It has the support of London mayoral candidate George Galloway and UKIP leader Nigel Farage.
The group says March 5 will be the "biggest single coordinated" action day in the history of British referenda, when they drop more than a million leaflets, the IBTimes UK reports.
Deputy campaign chief John Flack said there would be more than 350 stalls across the country distributing pro Brexit material.
"They will be getting out our message as to why Britain will be much better outside the EU," said Flack.
"There will be tens of thousands of activists out and we are looking to distribute in excess of one million leaflets just on Saturday alone."
They will also campaign in Prime Minister David Cameron's own constituency in Whitney, Oxfordshire.
"The stall in Whitney will be the same as the hundreds in high streets and market places throughout the UK," Flack said.
"There are other people doing the clever social media bit and the online campaigning and the big set-piece rallies.
"We are about good old-fashioned traditional grass-roots campaigning – engaging face-to-face with the voters."
He added the GO campaign is not driven by party specific politics, but will work across parties to advocate an exit from the 28-nation bloc.
"The whole thing about GO is that we take off our party political hats, we take off our preconceptions with each other, we take off our party colors, but we are all unified to get Britain out of the EU," he said.
GO was created by Tory MPs Peter Bone and Tom Pursglove and Labour MP Kate Hoey, with the intention of becoming an umbrella movement for smaller groups such as Leave.EU. It is currently challenging Vote Leave to be the official 'out' campaign, which will receive a £600,000 grant and £7 million cap from the Electoral Commission.
Their leafleting drive comes as senior European figures continue to warn of the dangers a Brexit would pose to the European economy and ongoing refugee crisis.
French President Francois Hollande said Britain leaving the EU would have an impact on France's willingness to continue working together to solve the migrant crisis in Calais and stop people illegally traveling to the UK.
Germany's Finance Minister Wolfgang Schauble also argued that Brexit would make Europe "less stable and more volatile," adding Britain would be excluded from the single market.
On Thursday, former UK Defence Secretary Liam Fox warned the 'Remain' campaign is better funded and represented an 'elite' campaign, while the 'Leave' movement had the hallmarks of a "peasants' revolt."
Speaking at a Conservatives for Britain event, he warned that the 'Leave' campaign is up against the generous investment and support of banks such as Goldman Sachs.