Britain & France strike £1.5bn drone deal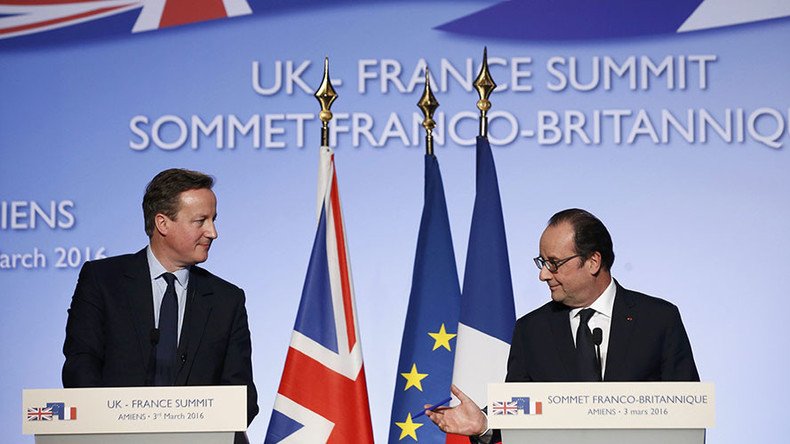 British Prime Minister David Cameron and French President Francois Hollande have announced a £1.5 billion ($2.11 billion) deal to develop a next-generation drone prototype as part of an effort to tighten military ties.
During a meeting held in the northern French town of Amiens, the leaders unveiled the plan to build the Future Combat Air System, described by the defense department as the most advanced drone of its kind.
The allies, both of which are carrying out airstrikes against Islamic State (IS, formerly ISIS/ISIL) in Iraq and Syria, are expected to contribute £750 million ($1.06 billion) to the project.
The summit also saw Defence Secretary Michael Fallon secure agreement from France to look into purchasing Brimstone missiles for the next version of its attack helicopters.
Fallon said: "Brimstone missile would be a significant option for the upgrade of their Tiger attack helicopters.
"The sale of this British made precision weapon would deliver investment in the UK economy and help protect both our shared interests around the world."
Britain's future within the EU loomed large at the summit, which comes ahead of the UK's June referendum on EU membership. Cameron used to visit argue that remaining in the economic bloc is in the interests of British security.
"The UK and France are proud allies. Our meeting here in Amiens is an opportunity to discuss how we can work even more closely together to keep our people safe," the Prime Minister said.
READ MORE: EU membership in Scotland's best interest – Nicola Sturgeon
"I am convinced that the UK's membership of the EU gives us greater security and greater capacity to project power globally.
"In an ever-more uncertain world, we gain from our membership of these international organizations," he added.
Hollande also cautioned against a Brexit after a French minister suggested that France may suspend the agreement that allows British border police to operate in Calais if the UK leaves the EU.
"There will be consequences if the United Kingdom is to leave the EU…I don't want to give you a catastrophic scenario but there will be consequences, especially in terms of people as well," Hollande said.
You can share this story on social media: