Anti-fossil fuels activists to shut down UK's biggest coalmine
Published time: 1 Mar, 2016 18:07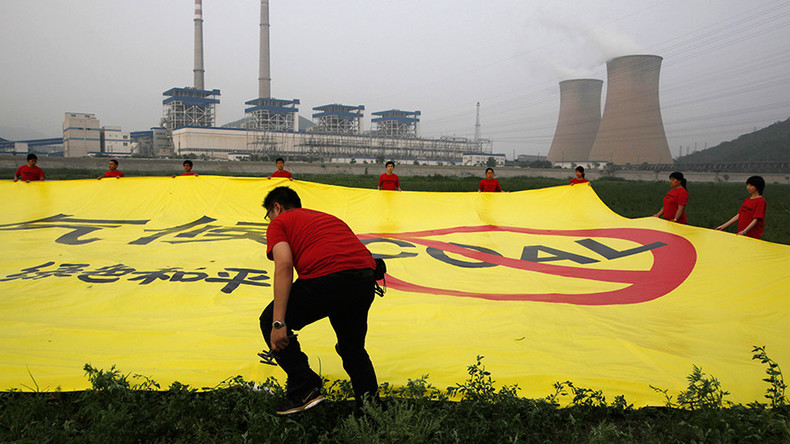 Activist group Reclaim The Power has pledged to shut down the UK's largest opencast coal mine in south Wales this May in protest against fossil fuels.
Hundreds of people are planning to take part in a mass blockade of the UK's largest opencast coal mine – Ffos-y-fran, near Merthyr Tydfil in south Wales. It will coincide with the Welsh Assembly elections on May 5.
Reclaim The Power spokeswoman Ellie Groves said in a statement: "The only way we can stop catastrophic climate change is taking action to keep fossil fuels in the ground.
"The local community have battled Ffos-y-fran for nearly a decade and now face the threat of a new mine next door at Nant Llesg.
"We stand in solidarity with them, and with communities on the front lines of extraction and climate change across the world. The coal from this mine also fuels Aberthaw, a power station so dirty it's been breaking the law for eight years.
"Enough is enough. We need a ban on opencast coal mining across Wales, and the rest of the UK," she added.
The climate activist group is the part of a bigger movement, Break Free 2016, which is planning "direct action and civil disobedience to 'break free' from fossil fuels."
"Tens of thousands of people around the world rising up to take back control of their own destinies. Walking arm-in-arm into coal fields. Sitting down to block the business of governments and industry that threaten our future. Marching in peaceful defense of our right to clean energy."
The global rally will take place between May 4-15 and will involve activists in the US, Brazil, Australia, Germany, Spain, Turkey, Israel, Canada, Indonesia, Philippines, South Africa and Nigeria.
Bill McKinnen from Break Free explained why the campaign is vital.
"If we dig up the coal and oil and gas and burn them – we will overwhelm the planet's physical systems, heating the Earth far past the red lines drawn by scientists and governments. It's not 'we should do this,' or 'we'd be wise to do this.' Instead it's simpler: 'We have to do this.'"
Scientists claim that fossil fuel is extremely damaging to the environment. They insist that 80 percent of those resources must remain underground.
World Coal Association Chief Executive Benjamin Sporton claims on the association's website: "Coal powers 30 percent of global electricity in 2040 and will continue to play an essential role in building modern infrastructure, through its use in steel, cement and aluminum production. The demand for high quality coal … is likely to grow. That's why China's INDC [Intended Nationally Determined Contribution] states the goal is 'to enhance the use of clean coal, increase the share of concentrated and highly-efficient electricity generation from coal.'"