Nuclear materials flying between UK & US 'totally safe' – MoD
Published time: 1 Mar, 2016 17:15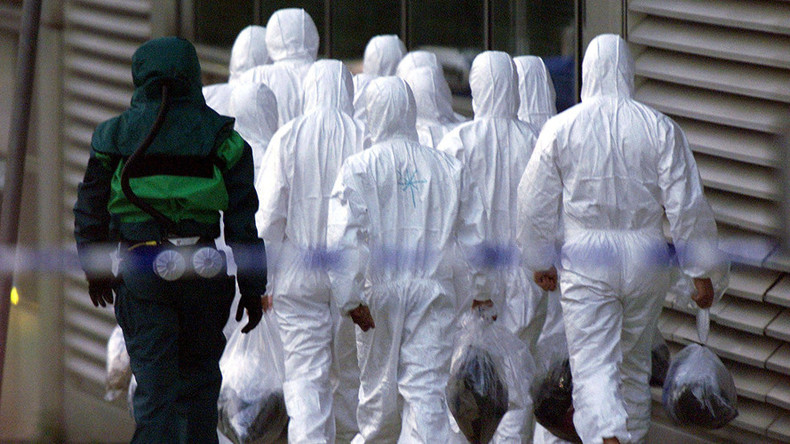 Materials used to build nuclear weapons have been flown between the UK and the US 23 times over the past five years, the Ministry of Defence (MoD) has admitted.
Although the MoD has not given any details about what was carried on the flights, experts believe they contained tritium, plutonium and enriched uranium.
The flights are thought to have taken off and landed at the Royal Air Force (RAF) base at Brize Norton in Oxfordshire.
Defence Minister Penny Mordaunt told MPs the exact nature of the materials must be kept secret for "national security" reasons.
"In the last five years, 23 flights carrying defense nuclear materials were undertaken," she said in a written answer to a question on the subject.
"All flights were between the UK and the United States on fixed-wing aircraft under the control of UK armed forces." Details of the cargoes were kept secret "as disclosure would or would be likely to prejudice national security," she said.
Last month, journalist Rob Edwards of the Ferret reported that the MoD conducted two emergency exercises in 2011 and 2012 codenamed Astral Bend. They modeled a scenario where planes carrying nuclear materials crashed.
This prompted Scottish National Party (SNP) defense spokesperson Brendan O'Hara MP to submit a question in the House of Commons.
Edwards' investigation uncovered official assessments that revealed numerous mistakes were made during military and emergency services drills, which would have led to "avoidable deaths."
The MoD took more than two years to disclose reports on a total of three nuclear emergency exercises, despite freedom of information laws requiring the documents to be published within 20 working days.
O'Hara said the revelation prompts further questions about the MoD's nuclear policies.
"This answer is alarming and highlights a practice most of the public are unaware of. The MoD needs to outline what risk and safety assessments they made about these flights and precisely when and what areas of UK airspace were used. I fear the MoD does not have a great track record on transparency when it comes to nuclear issues – and this answer clearly begs more questions," he said.
Independent nuclear engineer John Large believes the MoD's air transportation of nuclear materials would not meet international safety regulations.
A crash could "contaminate large tracts of land with potential radiological consequences for unprotected members of the public," he said.
UK Nuclear Information Services research manager Peter Burt said the flights raised "serious questions."
"The RAF regularly fly nuclear materials over large urban areas such as Bristol, Cardiff, and Swansea, which raises serious questions about what would happen in the event of an accident involving one of these flights," he said.
The MoD insists the air transports are safe and carried out in accordance with "stringent" regulations.
"The transport of defense nuclear materials is carried out to the highest standard in accordance with stringent safety regulations," an MoD spokeswoman said.
"In over 50 years of transporting defense nuclear materials in the UK, there has never been an incident that has posed any radiation hazard to the public or to the environment."