UK's newest sub test-fires torpedo days after #StopTrident demo
Published time: 29 Feb, 2016 17:36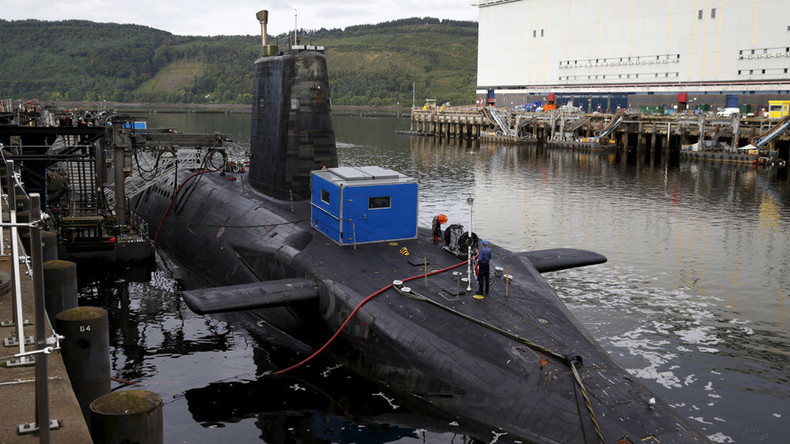 The Royal Navy's newest Astute-class hunter killer submarine, Artful, has test-fired a torpedo using the £50 million UK-built and designed Common Combat System (CCS) days after a mass anti-nuke protest swept through London.
Artful is the first Astute-class sub to use CCS, which will eventually be rolled out across every Astute-class, Vanguard-class and Successor-class submarine.
Rear Admiral Keith Beckett explained that the CCS "allows the Royal Navy to detect and track the quietest adversaries. It is a huge improvement in terms of resilience and flexibility and we're at the early stages of exploring the system's huge potential."
Minister for Defense Procurement Philip Dunne said, "this command and control system, designed as part of an innovative partnership between Defense and UK industry, will allow British submarines to adapt more quickly to changing mission requirements, making operations even safer and more efficient.
"It is a next generation system, both highly capable and cost-effective, which can be installed right across the Royal Navy's submarine fleets, thereby guaranteeing the best capability for the Royal Navy and the best value for money for the taxpayer."
Built by defense giant BAE Systems, the Artful, a nuclear powered submarine formally handed over to the Royal Navy last December, is undergoing final sea trials before its maiden deployment. The sub is to be commissioned in mid-March.
The Artful's latest torpedo test comes just days after the largest anti-Trident rally in decades swept through London on Saturday. Labour leader Jeremy Corbyn, a lifelong opponent of nuclear weapons, addressed the thousands-strong crowd urging against Trident renewal, which will be up for a vote later this year.
Concerns over the safety and security of the Trident system have also recently grabbed headlines. Former Defense Secretary Lord Browne warned on Sunday that the subs will be vulnerable to cyber-attacks and underwater drones in the future, making them a source of "instability."
Speaking to the BBC, the Labour peer called on supporters of Trident to admit that the world has "grown out" of nuclear weapons systems due to technological advancements.
Submarine engineer-turned-whistleblower William McNeilly, who served three months on board one of the Vanguard submarines, exposed a slew of safety and security failures last May. Speaking to RT ahead of Saturday's mass protest, McNeilly said he never intended to discredit the royal navy."
"I released my report because safety and security [at the Trident base] is not being taken seriously. Because it's a risk to the people and a risk to the land," he said