Liverpool police pelted with stones as right-wing 'infidels' clash with anti-fascists (VIDEO)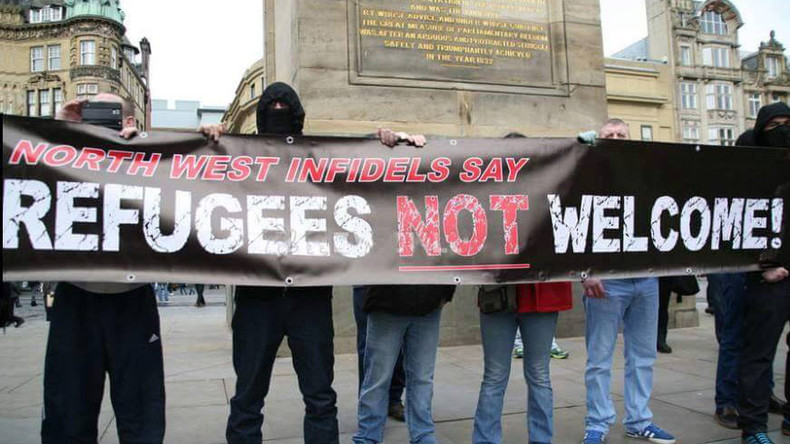 Members of an extreme right-wing group and a rival anti-fascist movement have brought chaos to the center of Liverpool, with Merseyside police forced to intervene in violent street skirmishes
The two groups collided after a far-right group that calls itself the North West Infidels (NWI) gathered in the city to "exercise our democratic rights to freedom of expression, speech, movement and assembly."
A mission statement on the militant organization's Twitter page explains that the NWI oppose "radical Islam, Zionism, Communism, Irish Republicanism and the militant left".
The demonstration saw people from an opposing anti-fascist group, Unite Against Fascism, come face-to-face with the right-wing mob on the steps of St. George's Hall.
Prior to the NWI protest, Unite Against Fascism had called for people in Liverpool to start "showing fascists the door".
One eyewitness told RT that he had "never seen anything like this" in Liverpool, with the far-right group throwing rocks and firecrackers, as riot police desperately tried to separate the groups.
He estimated that the North West Infidels numbered around 200 at Saturday's event. Many of them were shouting slogans like "migrants not welcome," as well as offensive statements about the Prophet Mohammed.
Nazi salutes were later witnessed as police kettled members of the right-wing faction near Liverpool Lime Street train station.
An estimated 500 UAF supporters attended a counter-demonstration to protest the extreme right-wing group.
Police arrested a number of people at the scene for throwing projectiles, according to the Liverpool Echo. One officer was injured in the scuffles.
"Our officers acted quickly to deal with the situation, separate groups of protesters, and contain them in a single area to try minimize the disruption caused to members of the public and local businesses," a spokesperson for Merseyside Police told the newspaper.
Police later confirmed that the majority of the protesters had been escorted onto trains out of Liverpool.
The North West Infidels have referred to immigration as the "ethnic cleansing" of Britain, posting anti-migrant messages on their Facebook page such as: "These rapefugees will be begging to go back home [by the] time we have finished with them."
You can share this story on social media: