Privately educated still take most top jobs – reports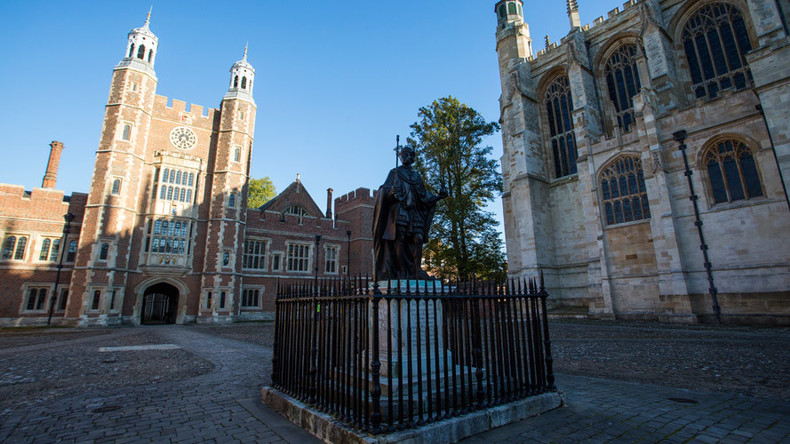 Individuals educated at private schools continue to land the majority of top jobs in leading fields, including law, politics, journalism and the arts, a new report has shown.
Results published by the Sutton Trust on Wednesday show that while the previous decade has shown "small signs" of narrowing inequality levels, often more than 70 percent of top jobs are given to those who were privately educated.
Only 7 percent of British youngsters attend private school, but the study showed that 74 percent of judges and 71 percent of high ranking military officers attended fee-paying schools.
In journalism, 51 percent of top print writers were privately educated, as well as 61 percent of doctors.
Respectively, only 12 percent of military chiefs were educated in comprehensive schools, and 22 percent of doctors attended grammar schools. Only one-fifth of leading journalists had a state education.
In politics the gap has narrowed, the report found, with 32 percent of MPs having attended a private school. But when examining the Tory cabinet, some 50 percent of the ministers went to independent schools, compared to 13 percent in Labour's shadow cabinet.
The report also examined the prevalence of Oxford and Cambridge universities among top ranking positions, and found that alumni from the famous academic institutions were more likely to take high positions.
In law, Oxbridge graduates make up 74 percent of the top positions, with 54 percent of journalists having also attended the two universities.
Some 47 percent of the Conservative cabinet also attended Oxford or Cambridge, more than 10 percent higher than the shadow cabinet, which features 32 percent Oxbridge graduates.
The arts is also not exempt from the privately educated/Oxbridge bubble, with award-winning actors and actresses 50 percent more likely to have had a private education than pop stars. A total of 42 percent of BAFTA winners were awarded to fee-paying school attendees.
Sir Peter Lampl, chair of the Sutton Trust, said the report showed a need for more social mobility.
"Our research shows that your chances of reaching the top in so many areas of British life are very much greater if you went to an independent school.
"As well as academic achievement, an independent education tends to develop essential skills such as confidence, articulacy and teamwork, which are vital to career success.
"The key to improving social mobility at the top is to open up independent schools to all pupils based on merit not money... as well as support for highly able students in state schools."
You can share this story on social media: