Rare gorilla c-section at UK zoo leads to adorable, must-watch video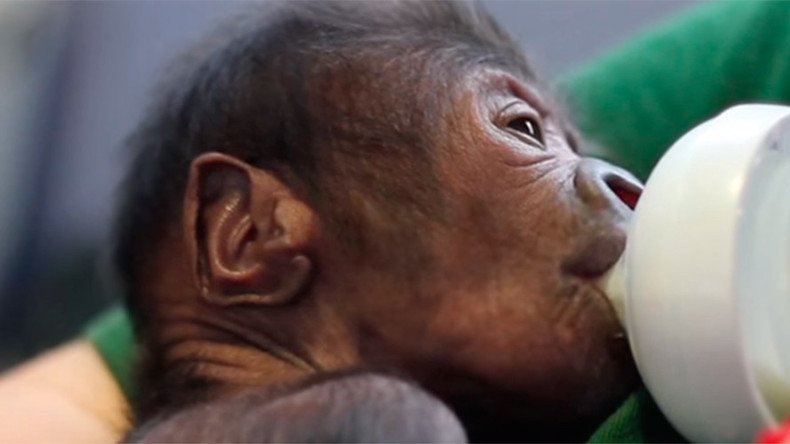 Led by a gynecologist for humans, a team of veterinarians successfully carried out a rare caesarian section in the UK and delivered a baby gorilla, Bristol Zoo announced Tuesday.
When the expectant mother's life was found to be at risk with symptoms of pre-eclampsia, doctors started a three-hour operation which has been performed in "only a handful of instances" worldwide.
In a scene reminiscent of the Ridley Scott classic Alien, the yet-to-be-named baby Western Lowland gorilla, which is classed as "critically endangered", is shown being delicately removed from her mother's womb.
"The birth of any gorilla is a rare and exciting event, but the birth of a baby gorilla by caesarean section is even more unusual," said the zoo's senior curator of animals, John Partridge. "It wasn't a decision that we took lightly. Kera [the mother] was becoming quite poorly and we needed to act fast in order to give the best possible treatment to mother and baby, and to avoid the possibility of losing the baby."
Weighing just over 1kg (2lbs 10oz), she was born on February 12 with zoo officials announcing the big news Tuesday.
Professor David Cahill, a gynecologist and professor in reproductive medicine at Bristol University, said he's delivered hundreds of human babies, but this was his first gorilla.
"Along with having my own children, this is probably one of the biggest achievements of my life and something I will certainly never forget," Cahill said.
Although the newborn needed help from vets before she was able to breathe independently, the zoo has said she is now "doing well", while her mother is also being tended to by zoo staff.
While there has been a huge interest in the baby gorilla on social media, the UK branch of PETA have questioned people's excitement of the birth, condemning the cruelty of enclosing animals in zoos.
Given the name of her rare method of delivery, might we suggest naming her Caesar, so she will be destined to lead the uprising of enslaved primates against the humans?
You can share this story on social media: