Heil Trump: British street artist turns 'The Donald' into Hitler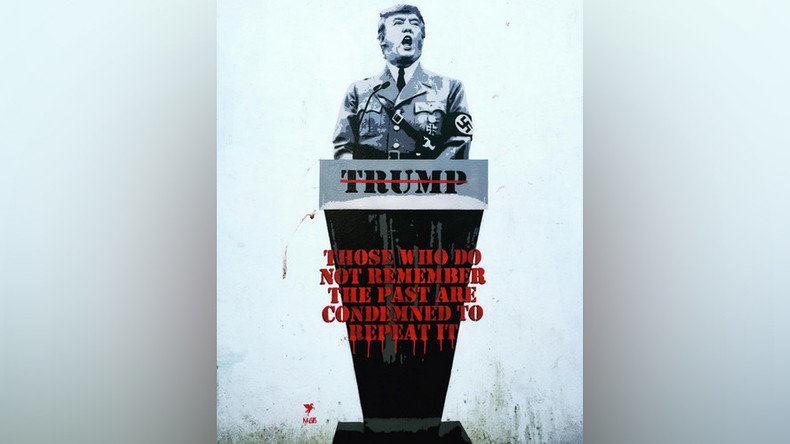 London street artist Pegasus has sent a clear message that he believes Donald Trump is a tyrant in the making. The artwork depicting the Republican presidential hopeful in the guise of Adolf Hitler was painted on the side of a pub in Bristol.
Pegasus told Mashable that the piece took five days from design to implementation and hopes that it will "give voters the wake up call they need."
In the piece, Trump is depicted wearing a Nazi uniform standing on a podium with a quote from George Santayana's The Life of Reason: Reasons in Common Sense below him.
The quote, printed in blood red, reads: "Those who do not remember the past are condemned to repeat it."
"Every hate speech makes him sound more and more like a dictator instead of a presidential candidate," he said. "I wanted to send that message in the most obvious way."
Pegasus painted the piece on the side of the Hen and Chicken pub with the help of fellow artist John D'oh. He said his image was necessary to remind people not to be "ignorant to the fact or surrender to fear mongering".
Last month, Pegasus used his art to comment on the #OscarsSoWhite controversy.
He is also responsible for the David Bowie mural in North London, painted in the wake of the music icon's death.
Trump's quest to become the Republican candidate gained momentum on Saturday when he won the South Carolina primary with 32.5 percent of the votes, 10 percent ahead of his nearest opponent.
Republican caucusers in Nevada will start casting their "secret-ballot presidential preference vote" in just a few hours, with Trump enjoying a comfortable double-digit lead on his opponents in recent polls.
You can share this story on social media: