Time to move on? Thousands to attend anti-Trident rally (VIDEO)
Published time: 22 Feb, 2016 14:39
Edited time: 22 Feb, 2016 14:45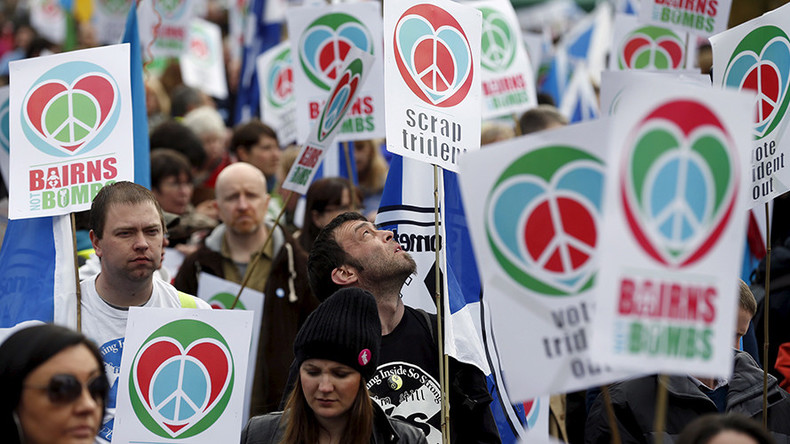 Thousands have signed up to attend an anti-nuclear weapons rally organized by the Campaign for Nuclear Disarmament (CND) due to be held on Saturday.
CND has released a new video promoting the demonstration and examining the arguments for and against nuclear weapons renewal.
The "Time To Move On" video calls for a fresh look at Britain's nukes and argues that building a new, sustainable and post-nuclear Britain must take priority.
The rally in Trafalgar Square will be attended by a number of party leaders including Labour's Jeremy Corbyn, the Scottish National Party's (SNP) Nicola Sturgeon and Welsh nationalist Plaid Cyrmu's Leanne Wood. Green Party MP Caroline Lucas will also be speaking.
The demo comes ahead of this year's vote on whether or not to renew Trident, and at a time when the Labour Party is split between unilateralists such as Corbyn and his defense secretary Emily Thornberry, and the Blairite right-wing for whom Trident reflects Britain's global status.
"This year Parliament will decide on whether or not to replace Trident, the UK's nuclear weapons system," CND said in a statement on its website.
"Polls show that a majority of the public oppose Trident replacement. It is obscene that, while the government plans to spend more than £100 billion on a cold war relic, huge cuts are made to vital public services," the statement added.
In recent weeks, the US had also weighed in on Britain's role as a nuclear power.
In mid-February, US Defense Secretary Ash Carter told the BBC nuclear submarines allowed Britain to "continue to play that outsized role on the global stage that it does because of its moral standing and its historical standing."
"It's important that the military power matches that standing and so we're very supportive of it," he said.
Carter said the UK's submarine fleet contributes to the "special relationship" that Britain has with the US.