Israel Apartheid Week: Pro-Palestine posters plaster London Underground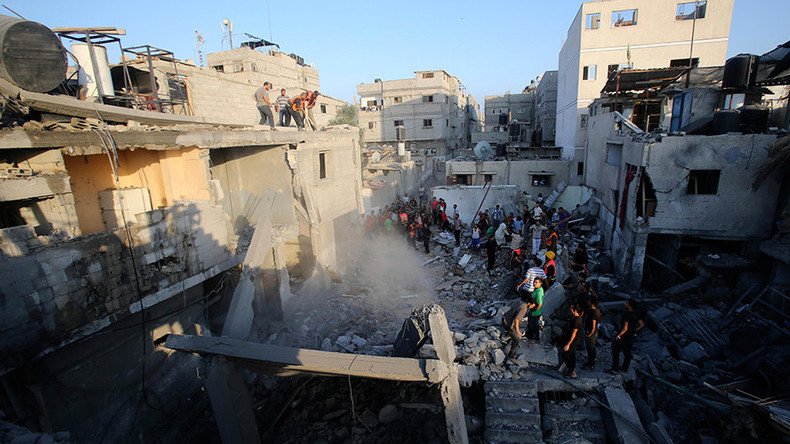 Campaigners have kicked off the annual Israeli Apartheid Week by plastering the London Underground network with posters highlighting the plight of Palestinians.
The posters, which appeared on the London Underground on Sunday, claim British arms were used to slaughter civilians during Israel's 2014 war on Gaza and suggest, "Apartheid is Great Britain."
Controversial British security giant G4S, which is involved in the running of Israeli prisons, also drew activists' ire.
As well as being accused of supporting apartheid, the firm is blasted for doing "whatever it takes to secure profits."
Brighton Boycotts, Divestments and Sanctions (BDS) activists tweeted on Sunday: "Over 500 London tube trains plastered with posters for the 4 million passengers to read tomorrow #Israelapartheidweek."
As the campaign kicked off, the Palestinian envoy to Britain also blasted the UK's approach to Israeli settlements on Palestinian territory.
Manuel Hassassian told the Independent newspaper the decision to invite Speaker of Israeli Knesset Yuli Edelstein to hold forth at an event held in the UK Parliament risked legitimizing Israeli expansionism, given Edelstein lives in a settlement.
Edelstein is due to address the British Group Inter-Parliamentary Union in March.
"Mr Edelstein lives on an illegal Israeli settlement built on Palestinian land and he publicly opposes Palestinian statehood," Hassassian said.
"He even supports initiatives such as Lobby for Greater Israel, whose members want to colonize what is left of Palestinian land," the diplomat added.
Officially Britain opposes the building of settlements on Palestinian land as it undermines its wish for a two-state solution. Hassassian says the position is blunted by allowing Edelstein to speak in Westminster.
"The current British Government is reneging on its long-held policy positions on illegal Israeli settlements and on the two-state solution. Are these positions just empty words?" he said.
You can share this story on social media: