TTIP deal means 'irreversible privatization' of NHS – legal experts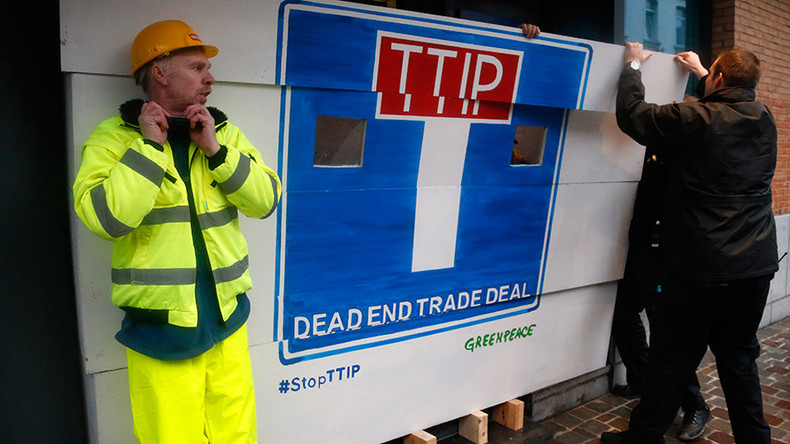 The secretive transatlantic trade deal between the US and Europe may make it impossible for future governments to reverse the privatization of parts of Britain's National Health Service (NHS), according to legal experts.
The Transatlantic Trade and Investment Partnership (TTIP) is a series of bilateral trade negotiations concerned with reducing regulatory barriers to trade for big business.
New legal advice prepared by the UK's leading QCs on European law for the Unite trade union argues the NHS needs to be explicitly excluded from the deal, which is expected to be finalized later this year.
The news come a month after the government came under fire by anti-TTIP campaigners for blocking access to similar legal advice on the deal's impact on the health sector.
Michael Bowsher QC, former chair of the Bar Council, who prepared the advice, argued the deal poses a "real and serious risk" to future governments' ability to make decisions about the NHS.
Echoing campaigners' concerns that public services such as the NHS will be first in the line of fire if Europe's public sector is opened up to US corporations, Bowsher said: "We consider that the solution to the problems TTIP poses to the NHS – and which is likely to provide the greatest protection – is for the NHS to be excluded from the agreement by way of a blanket exception contained within the main text of TTIP."
Boshwer also warned the deal would enable US companies with links to NHS contracts to win higher compensation by bypassing domestic courts.
The Department for Business, Innovation and Skills (BIS), leading the TTIP negotiations, dismissed Unite's concerns, saying: "The NHS is under no threat whatsoever from the TTIP deal or any other trade and investment agreement.
"It cannot force the UK to privatize public services or prevent it from regulating in the public interest and any suggestion to the contrary is both irresponsible and false.
"It will remain up to the UK government and devolved administrations to decide how to run publicly funded health services, including whether private companies should be involved. Where a service has previously been provided by a private provider, this is not irreversible."
Unite, which has already held a series of meetings with BIS officials, is expected to present its advice to the government on Tuesday.
The deal may be a decisive issue for leftwing Euroskeptics in the June referendum on Britain's EU membership.
You can share this story on social media: