Boris backs Brexit: London mayor defies Cameron warning over EU vote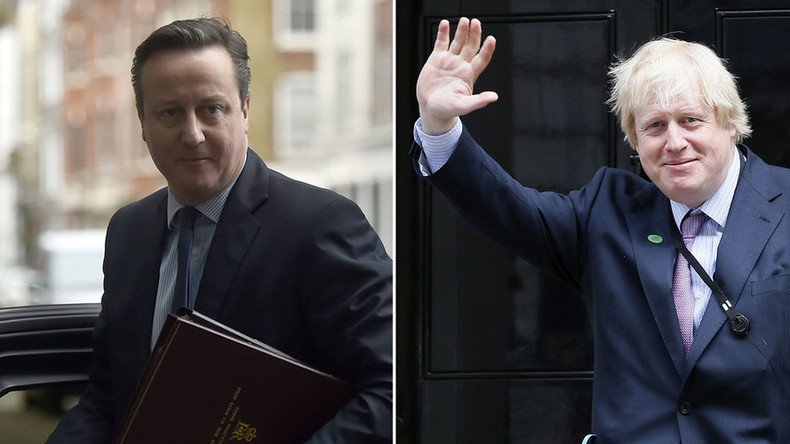 British Prime Minister David Cameron warned London Mayor Boris Johnson Sunday about the dangers of sharing a Brexit platform with UKIP leader Nigel Farage and firebrand progressive George Galloway. This did not convince Johnson to change his position on the issue.
Boris Johnson confirmed on Sunday that he will advocate for Britain to leave the EU in the June referendum. Johnson said he will stand in favor of the "Brexit" citing excessive legislation from the EU, which in his opinion, has a strong chance of getting out of control. He announced his final decision addressing reporters outside his north London home.
Speculation about Johnson's decision have been proliferating on social media for months with many waiting for his call.
"The last thing I wanted was to go against David Cameron or the government but after a great deal of heartache I don't think there is anything else I can do," he said, adding that he wanted to see a healthy relationship based more "on trade and cooperation".
"I will be advocating vote leave . . . because I want a better deal for the people of this country to save them money and to take back control."
He also said that the deal secured by Cameron would not lead to any fundamental reforms in the EU.
"I don't think that anybody can claim that this is fundamental reform of the EU or of Britain's relationship with the EU," he said.
Earlier speaking on the BBC's Andrew Marr Show, Cameron said: "If Boris and if others really care about being able to get things done in our world, then the EU is one of the ways in which we get them done.
"I would say to Boris what I say to everybody else, which is that we will be safer, we will be stronger, we will be better off inside the EU. I think the prospect of linking arms with Nigel Farage and George Galloway and taking a leap into the dark is the wrong step for our country," Cameron added.
Cameron's impassioned performance, where he outlined the case for staying in the EU, was praised by many of his traditional political opponents, including the "spin doctor" of former Labour Prime Minister Tony Blair, Alastair Campbell.
However, Johnson's economic adviser Gerard Lyons took to Twitter to play down fears Brexit would affect British markets and the City of London.
Some are taking this as a suggestion the Mayor of London is leaning towards 'Go'.
Former Conservative leader Iain Duncan Smith also upped the ante by claiming Britain would be more at risk of terrorist attacks by staying in the EU.
You can share this story on social media: