British fascists are as dangerous as ISIS, says Derbyshire Police sergeant
Published time: 19 Feb, 2016 15:00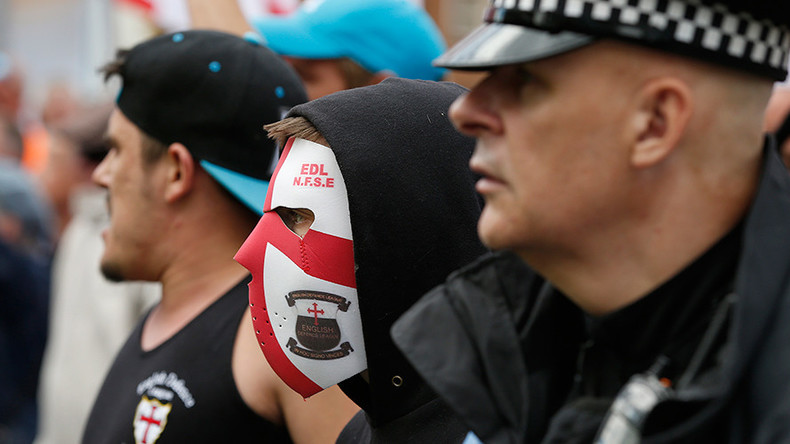 Fascist organizations like the British National Party (BNP) and English Defence League (EDL) are just as dangerous as Islamic State (IS, formerly ISIS/ISIL), one English police force claims.
Sergeant John Brooker from Derbyshire Police told Peak FM that home-grown right-wing radicals pose "just as much of a real threat" as those operating overseas, and vowed to treat them the same.
The sergeant added that the BNP and the EDL operated in the same way as terrorist groups, by dividing society and forcing people against one another. He also said right-wing groups could radicalize vulnerable people and drive them commit violent acts.
"The biggest threat is very much centered on Syria and Iraq based on groups such as Islamic State, however, we certainly can't ignore the right-wing issues and the far-right issues that do exist in our communities and are just as much of a real threat in terms of community division, hatred and deplorable acts as anything else," he said.
His remarks come as the BNP resumed operating as an official political party after being stripped of its status in January when it failed to pay a registration fee and provide up-to-date documents.
"The BNP is now fully re-registered with the Electoral Commission, and gearing up to stand a full-slate of candidates in the GLA and a BNP London mayoral candidate, David Furness, while standing in target seats across the country," a spokesperson for the party said on February 11.
As well as the BNP and the EDL, anti-immigration group Pediga UK has re-launched and is planning a series of marches in British cities.
On February 4, former EDL leader Tommy Robinson branded opponents of a Pegida march in Birmingham "cowards."
Robinson was responding to a pledge by 10 of the city's MPs and 60 community leaders to oppose the march planned for February 6.
The pledge, which champions multiculturalism, cited Birmingham's diverse community, arguing "despite our proud history, we have been 'chosen' as the target for the British leg of a European 'day of action' targeting Muslim communities.
"As proud people of Birmingham, we wish to declare that Pegida are not welcome and have nothing to offer our city."