Death threats by vegan activists force pub to remove foie gras from Valentine menu
Published time: 12 Feb, 2016 17:16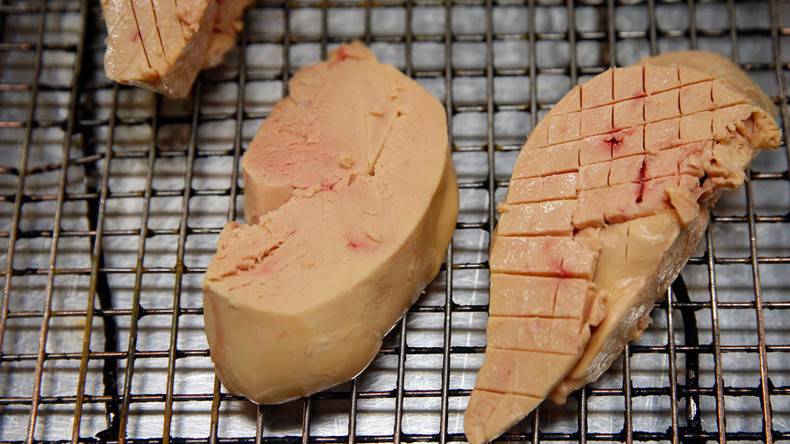 A pub was forced to take foie gras off its Valentine's Day menu after its staff were sent 200 death threats by vegan activists.
The King's Arms in Fleggburgh, Norfolk, had put together a new tasting menu for Valentine's weekend, which included chicken liver parfait and foie gras.
While perceived by some food enthusiasts as luxury fare, foie gras is regularly criticized over the cruel practices used to produce it. The delicacy is made by force-feeding geese and ducks so that their livers become enlarged. It is illegal to make it in Britain, despite the fact it's produced in other European states such as Belgium and France.
In an interview with the Telegraph, local chef Mark Dixon said staff were inundated with emails, texts and prank phone calls within hours of uploading the menu on Facebook. He said the establishment's employees also received roughly 200 death threats.
"We have had foie gras on the menu before but no one has batted an eyelid," Dixon said.
"We live in the country and our customers don't normally see it as anything out of the ordinary.
"As soon as the activists got hold of it we got around 200 death threats in hours. We have had between 4-5,000 messages, calls, texts and emails."
Dixon said the situation had left staff in tears and scared to answer the phone, so he decided to remove foie gras from the menu.
"People coming to eat with us over the weekend are disappointed and I suppose in a way we've let the trolls win but I can't risk the safety of the staff," he said.
An announcement on the pub's social media page apologized to customers whose use of its phone lines and social media had been impeded by harassment from the vegan activists.
"We have listened to every opinion but when people go as far as ringing our staff, constantly, calling them murderers and [issuing] death threats we class this as harassment and also inhumane to humans on the vegans' behalf, and completely disgusting and unacceptable," it said.
"To stop this unfair behavior on our staff we have decided to remove the foie gras from the menu and apologize to all of our customers who enjoy our parfait dish."
Many customers offered their support on Facebook. Steph Evans-Jones, who regularly attends the restaurant and bar, wrote: "As locals and non-meat eaters, Mark and Natasha have always made us feel very welcome."
Police will patrol the area on Saturday evening, following reports that vegan protesters may turn up.
Many restaurants and retailers such as Sainsbury's and Waitrose no longer sell foie gras after opposition from activists.
While no direct threats were posted on the King's Arms' Facebook page, evidence of heated debate was apparent. Anne Morrissey wrote: "Let's all go for a romantic plate of tortured animal!"
But Laura Jane Curtis offered her sympathies to the restaurant, saying: "I'm really sorry you have had this kind of negative attention. I'm a vegan and I hate this kind of activism."
Adding a little light relief to the discussion, Rob Shepherd added: "I foie one will still be supporting your restaurant in future."