'NATO warships combatting migrant traffickers must save lives' – Amnesty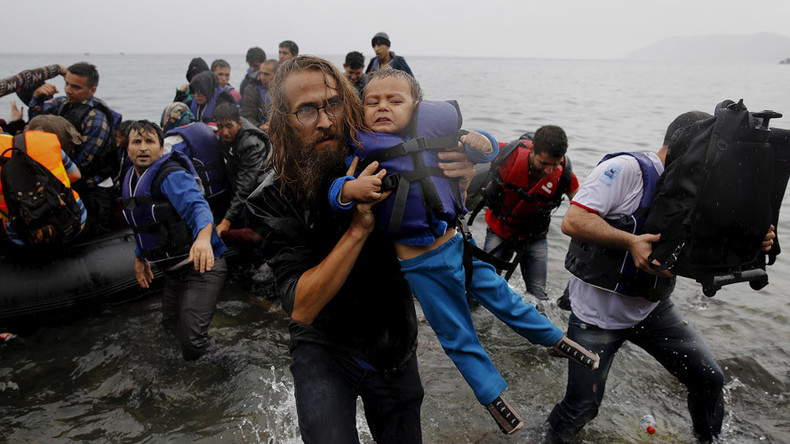 Human rights campaigners have insisted NATO ships on anti-people smuggling operations in the Aegean Sea must also carry out search-and-rescue operations for people in distress.
NATO announced on Thursday it is sending war ships to help Turkey and Greece counter people smugglers and "stem the flow" of migrants.
Three military vessels from NATO's Standing Maritime Group 2 have been ordered to "start to move now" and head for the Aegean Sea to conduct reconnaissance and surveillance operations, NATO Secretary-General Jens Stoltenberg said on Thursday.
Amnesty International insisted the NATO ships must comply with international law by providing assistance to refugees when needed.
"Any NATO ships that witness a boat in distress must provide immediate life-saving assistance. Hundreds of refugees, including many children, have already died this year attempting the treacherous journey across the Aegean," said Amnesty International European Institutions Office chief Iverna McGowan.
"In no way must NATO forces become yet one more barrier between refugees and the international protection they are legally entitled to.
"Intercepting refugees attempting to reach Europe and pushing them back to Turkey – where 2.5 million are already hosted – would be a serious violation of their right to claim asylum, and would fly in the face of international law."
Amnesty is also calling on European countries to immediately scale up plans to resettle refugees from Turkey. The group insists that offering refugees legal and safe alternative travel routes is the only way to deter people from making perilous sea crossings.
Reuters reported on Thursday that NATO will send any refugees saved from drowning to Turkey.
Stoltenberg said the mission is not about "stopping or pushing back refugee boats."
"This is about helping Greece, Turkey and the European Union with stemming the flow of migrants and refugees and coping with a very demanding situation," Stoltenberg said, describing the situation as a "human tragedy."
"NATO will contribute critical information and surveillance to help counter human trafficking and criminal networks."
Germany's flagship the 'Bonn' will take part in the mission along with the Turkish navy's Barbaros and Canada's Fredericton.
A ship from Denmark is also expected to move to Greece, a German government source reported. The Netherlands is also considering the possibility of participating in the mission.
Supreme Allied Commander General Philip Breedlove laid out the plan several hours after NATO's defense ministers approved the use of military vessels in the problem region.
"This mission has literally come together in the last 20 hours, and I have been tasked now to go back and define the mission. We had some very rapid decision making and now we have to go out to do some military work," Breedlove told a press conference.
You can share this story on social media: