London black taxis cause traffic chaos in Uber protest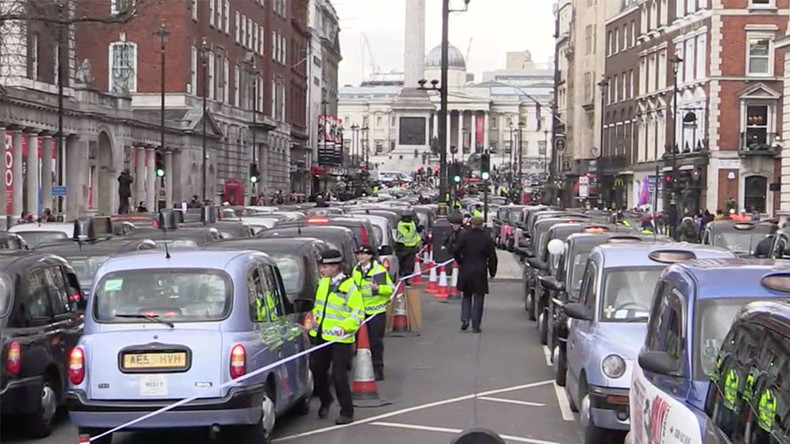 London's famous black cab drivers took part in a major protest against Uber and other private hire vehicles by causing traffic chaos in the city center.
Some 8,000 taxi drivers were expected to take part in the demonstration outside Parliament at 14:10 GMT, causing severe disruption in one of London's busiest areas.
Taxi drivers – colloquially known as 'cabbies' – are protesting against government body Transport for London (TfL) for its perceived failure to rein in private hire vehicles (PHVs) such as Uber.
United Cabbies Group claim TfL's latest proposals regarding future legislation for PHVs is not "pursuing a policy of public safety" because it is not carrying out sufficient checks on PHV drivers.
The government body is accused of overseeing "increased risk to women's safety" and a "total lacking of accountability [for] the increasing number of sexual assaults committed by PHV drivers."
TfL also controversially back-tracked on its plans to introduce a five-minute ruling, which would force Uber drivers who have received a booking to wait five minutes before picking the passenger up.
RMT union chairman Mick Bailey told LBC Radio that Parliament had to take action to protest London taxis.
"I hope that drivers that weren't intending to come will get behind it and come down and show their support for their job," he said.
"Because if they don't, we're on the rocky road to nowhere. It's your livelihood. It's your job.
"Plying for hire is the thing that's got to be dealt with. We've got to get it in the House of Commons and we've got to prevent this government from dismantling the Licensed Taxi Trade in London."
You can share this story on social media: