ISIS unbeatable in Libya without single, functional government – security expert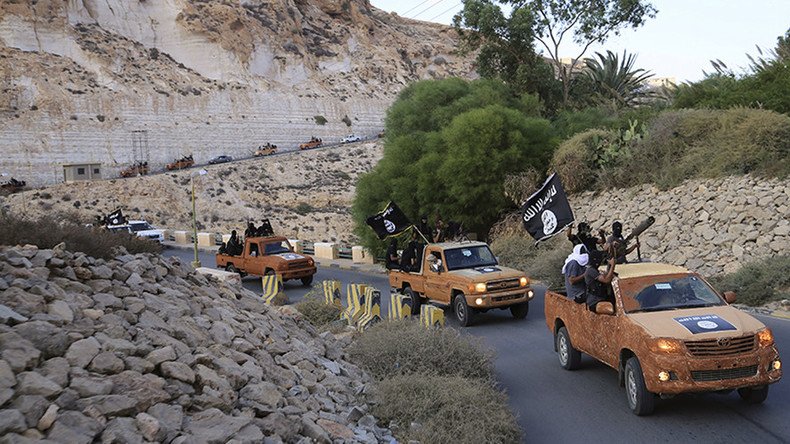 Islamic State will not be defeated in Libya unless the country has a coherent government, a former national security advisor to UK Prime Minister David Cameron has warned.
Sir Peter Ricketts, who has just finished a posting as British ambassador to France, told the BBC that military action could be needed to oust the extremist group from Libya, suggesting there was a "very remote" chance British troops would be required on the ground.
The security expert said airstrikes alone would not combat the threat.
His remarks come as Western powers consider whether to provide military aid to Libya, including troop training, to prevent Islamic State (IS, formerly ISIL/ISIL) from spreading further into North Africa.
Speaking to BBC Radio 4, Ricketts said Libya needs stability.
"It is a threat to all of us in Europe because ISIS is moving in so there is a case to do everything we can to help them produce stability in Libya, but they have got to do it. The likelihood of British combat forces being deployed seems to me very remote, but supporting the Libyans to do a more effective job in governing their own space, I can certainly see a case for that."
He said decision to launch NATO airstrikes on Libya in 2011 was the right decision "because it stopped a bloodbath in Benghazi and it gave the Libyan opposition groups a chance to get together to form a coherent government with a coherent security structure and basically reinvent their country. They failed to do that, which is a great disappointment."
But Ricketts said that tackling IS involved a fundamentally different scenario.
"We can only do anything if there is an emerging security structure that we can support, because we cannot bring security to Libya ourselves."
There are an estimated 5,000 IS fighters active in Libya. The group has control of the port town of Sirte and has ambitions on the country's oil fields.
Since the NATO aerial campaign to topple Muammar Gaddafi in 2011, opposition groups have failed to install a national unity government. Two rival administrations are currently competing for power and militias have sprung up across Libya.
The UN has been unable to reconcile the two governments, while the debate over whether or not to provide military assistance to Libya continues.
Islamic State is losing ground in Iraq and has been denied access to vital oilfields, making expansion in Libya a key strategic aim, which would grant them much needed resources.
You can share this story on social media: