'Prostitutes are victims, not offenders' - new police guidelines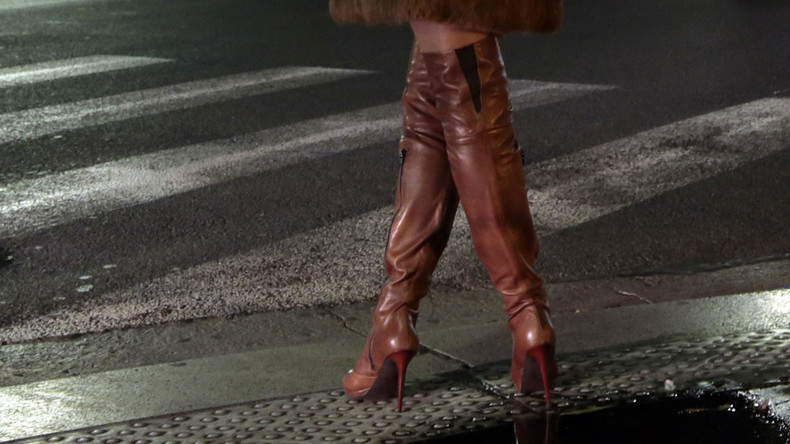 Prostitution in Britain has taken a step towards decriminalization after police chiefs told officers to stop raiding brothels, to view sex workers as victims and generally to do more to support prostitutes.
A new draft strategy published by the National Police Chiefs' Council (NPCC) on Monday said that raiding brothels breeds mistrust amid sex workers, police and external agencies. Rather, forces in England and Wales have been advised to move away from enforcing laws that criminalize the sale of sex.
Although police have been advised to prioritize sex workers' safety since 2011, the NPCC's new strategy ramps up this duty. The draft guidelines introduce a new "responsibility to protect" sex workers, and also frame prostitutes as potential victims of criminality rather than offenders.
Assistant Chief Constable Nikki Holland, who is the NPCC's Lead for Sex Workers, said prostitutes are generally a vulnerable group.
"The draft strategy makes clear that the majority of sex workers are not committing offences but that they are a vulnerable group that we have a responsibility to protect," he told Sky News.
"The horrendous murder of five young women in Ipswich in 2006 highlighted the need to improve our response to vulnerable sex workers. Since 1990, there have been 152 sex workers murdered in the UK."
Holland said there is no perfect solution for dealing with prostitution and sexual exploitation, but these guidelines set out a strategy that considers potential risks to all. She argued the guidelines also strive to address local community concerns related to sex work and the exploitation of prostitutes by criminal syndicates.
Responsibility to protect
National Ugly Mugs (NUM), a campaign which works to protect sex workers that are targeted by dangerous individuals, welcomed the proposed policy changes.
NUM CEO Alex Feis-Bryce said the new strategy sends a clear message.
"The guidelines recognize that the principal duty of police in relation to sex workers is to protect them, which sends strong message that crimes against sex workers will be taken seriously," he told Sky News.
"Sex workers are often targeted by dangerous individuals but, due to the lack of trust in the police and the fact that aspects of their work is criminalized, three quarters don't report these crimes to the police."
Feis-Bryce said a lack of trust between prostitutes and state officials leads to a situation where dangerous criminals remain unfettered, and sex workers are forced underground.
"The evidence is clear that police enforcement, whether it is focused on sex workers, their clients or on closing indoor sex work premises, only serves to further damage the fragile relationship with the police and forces sex workers further underground into less safe working environments," he said.
"There are also some really sensible, practical recommendations in the draft guidelines such as the importance of proper pronoun usage with trans sex workers and the suggestion that every force should have a single point of contact to support sex workers when they're victims of crime.
"From our extensive experience this would make a huge difference to the number of sex workers reporting crimes to the police."
Backdoor decriminalization
Draft guidelines relating to the new policing policy come amid increasing efforts to create safe spaces for sex work in Britain.
Such a space was founded in 2014 in Holbeck, an industrial district on the outskirts of Leeds. As sex work has largely been decriminalized there, prostitutes are left to carry out their business between 7pm and 7am daily without facing the prospect of police questioning or arrests.
A second district in Liverpool dubbed the "Merseyside Model" has also acted as a safe space for prostitutes. Since 2006, law enforcement agencies have collaborated with harm reduction, counseling and outreach services in the locale to protect sex workers.
As part of this scheme, police have treated crimes against sex workers as hate crimes, keeping prostitutes safer as conviction rates for rapes remain high.
Both programs have been greeted with open arms by activists who are campaigning for more progressive prostitution laws in Britain. However, they have also attracted anger among local residents and business people who complain that sex workers are using public spaces to conduct their business.
Although police are working to make prostitution a safer trade, the industry's links to human trafficking continue to cause concern.
Sex slavery has become a global business and the source of huge profits for criminal syndicates. Because trafficking networks are notoriously fluid and adaptable, they often evade detection. Although governments across Europe have attempted to tackle trafficking networks, their successes remain limited.
You can share this story on social media: