UK poultry farmers STILL using antibiotics linked to rise of drug-resistant bacteria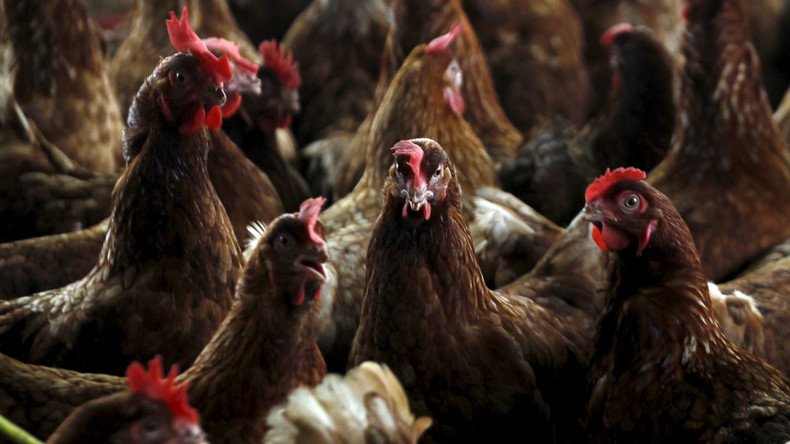 UK poultry farmers have increasingly been using antibiotics linked to the development of drug-resistant bugs, an investigation by the Bureau of Investigative Journalism (BIJ) has revealed.
Industry data obtained by TBIJ indicates a 59-percent spike in the use of antibiotics known as fluoroquinolones at UK poultry farms in the latest 12-month reporting period. The antibiotics were banned in the US, Denmark, Austria and Finland over health concerns years ago.
Fluoroquinolones are used on factory farms where poultry is reared in crowded conditions that encourage the spread of disease.
However, complications arise because fluoroquinolones are also used in humans to treat certain types of foodborne diseases, including salmonella, E.coli and campylobacter poisoning. Experts warn that overuse in livestock fuels the development of drug-resistant forms of food poisoning bugs.
Consumers who contract the bugs may find themselves at increased risk of severe side effects or even death because they may not respond to treatment.
Chief scientist at the European Center for Disease Prevention and Control (ECDC) Professor Mike Catchpole told TBIJ there is evidence of a link between drug-resistant salmonella and "excess mortality."
"Drug-resistant bacteria have been associated with excess mortality for salmonella and with greater risk of death or invasive infections for campylobacter," he said.
Unpublished figures seen by TBIJ were compiled by the British Poultry Council (BPC), which represents 90 percent of the UK poultry industry. The data suggests at least 20 million more chickens were given antibiotics in 2014 than the previous year.
A spokesperson for the BPC said: "The BPC and its members recognize the importance of fluoroquinolones for human medicine, and we will continue to work with our members to significantly reduce the usage of all classes of antibiotics including the fluoroquinolones."
READ MORE: Beards host less antibiotic-resistant bacteria than shaven face – study
TBIJ's revelations prompted an outcry from experts.
Scientific adviser with the Alliance to Save Our Antibiotics Coílín Nunan called the 59-percent rise "shocking and alarming," and said it was "likely to have real consequences for human health."

"The government should ban all use of fluoroquinolones in poultry because we know resistance is transferring from chickens to humans. This is why the US banned fluoroquinolone use in poultry a decade ago."
Concerns about fluoroquinolones use in the poultry industry have spanned decades. A House of Lords committee urged the poultry industry to reduce its use back in 1998.
You can share this story on social media: