Surprise! Sir Elton John plays piano in London station (VIDEO)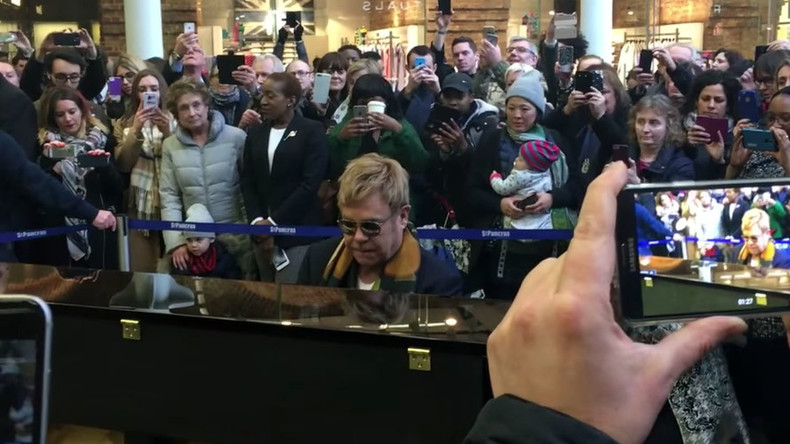 London commuters got a special treat when Sir Elton John tinkled the ivories at St Pancras station Thursday.
The 68-year-old musician who remembers when rock was young was donating a piano to the station and sat down to play a tune for passersby.
Sensibly planned before the evening rush hour, Sir Elton brought some peace and tranquility to the bustling transport hub which links Paris and Brussels with the rest of London.
The Rocket Man didn't sing, but he did sign the piano before leaving.
"Enjoy this piano! It's a gift. Love Elton John," he wrote, evoking the lyrics of his hit Your Song.
He encouraged commuters to play the piano whenever they want.
While it felt spontaneous, the event was a well-planned promotion for Sir Elton's new album Wonderful Crazy Night.
U2 used a similar tactic last year by disguising themselves as buskers in a New York subway station before revealing themselves to a surprised crowd, all as part of promoting their latest album.
Pianos in train stations are becoming more common - with viral videos to match.
More than six million people have watched this "dude" wail on this public piano.
And then there are these lads in what is thought to be a Paris station.
Most impressive is "Alan" at Newcastle station in England.
Max Brown, who posted this on YouTube last year, says Alan is homeless and described him as "soaking wet with his drenched sleeping bag over his shoulders".
You can share this story on social media: