Shakespeare's Hamlet staged in Calais 'Jungle'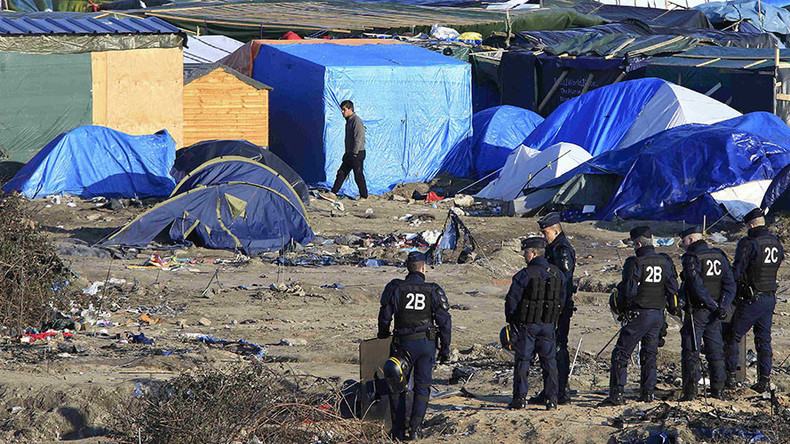 A production of Shakespeare's Hamlet is being staged by a touring theatre company in the 'Jungle' refugee and migrant camp near the French port town of Calais.
As part of the Globe to Globe world tour, Shakespeare's Globe theatre company has taken the production to various countries, including a stop off in Malta for Libyan asylum seekers.
Good Chance theatre, which operates the dramatic venue in the Calais camp, said more than 300 people had turned out to watch the performance.
Around 5,000 people live in the camp permanently, where residents have built their own basic facilities and places of worship.
The tour will also perform at refugee camps in Jordan, Djibouti and Cameroon, marking the 400th anniversary of William Shakespeare's death.
Globe Artistic Director Dominic Dromgoole said: "This performance will be yet another wonderful example of this ground-breaking tour's ability to reach displaced people across the world.
"It's a privilege that our Hamlet company have been able to perform in the Calais Jungle and our thanks go to Good Chance for enabling this," he added.
Joe Murphy and Joe Robertson, artistic directors at Good Chance, said Calais is a fitting place to stage a production of the famous play.
"As a production which has traveled to audiences all over the world, it is fitting that it visits the camp here in Calais, where the fault lines of over 20 different nations meet."
Hundreds of camp residents were recently forced out of their homes as French authorities bulldozed a third of the site. Around 1,500 migrants and refugees have refused to move into purpose-built shipping container accommodation.
On February 1, authorities bulldozed a mosque, a church and a school which stood in the buffer zone between the camp and a public road.
Many refugees were reluctant to move from areas where they have established communities and have criticized the new facility as being prison-like.
Others said the hand-scanning identification system required by French authorities for those who move to the new shelters will affect their chances of settling in other European countries.
You can share this story on social media: