Flight of fancy: Fallon spends £10mn on 2 solar-powered spy drones (VIDEO)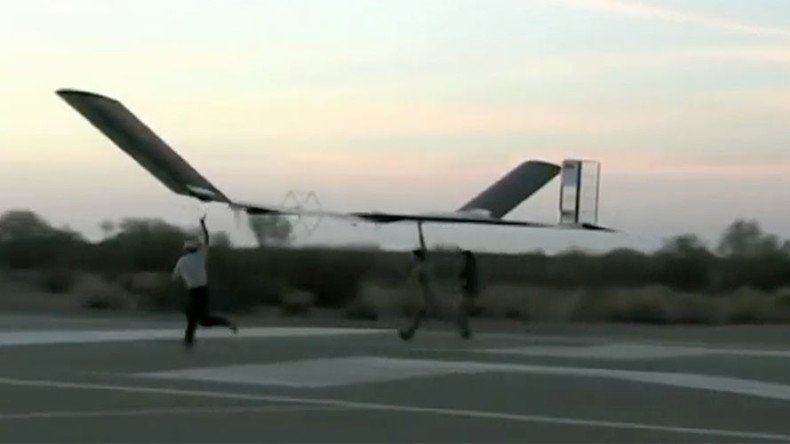 Solar-powered surveillance drones capable of continuous flight for more than a month are to be the latest high-tech purchase by British intelligence, Defence Secretary Michael Fallon announced on Tuesday.
The British government will sign a £10.6 million (US$15.4 million) deal with UK defense contractor Qinetiq to procure two new prototypes of the Zephyr unmanned aerial vehicle (UAV) later this week.
The spy drones can fly above the weather at 70,000ft (21,300 meters) for 45 days at a time. Solar panels power the aircraft during the day and charge lithium-sulfur batteries which are used at night.
Speaking at an elite annual dinner held by arms trade organization ADS Group, Fallon said the UAVs would be part of Britain's "next generation" spy technology.
"I can announce that, later this week, we expect to close a deal to build and test two zephyrs as part of our commitment to develop next generation battlefield intelligence capabilities," he told guests.
Zephyr drones are so light they are launched on the shoulders of four military personnel and can stay in the sky, well above the flightpaths of commercial airliners, for so long they have been described as a "pseudo-satellite."
With a wingspan of 22.5 meters, the UAVs are capable of providing cheap, non-stop surveillance over many weeks.
Fallon said in a statement that the drones can fly above "vast geographical areas."
"High-altitude aircraft will provide next-generation battlefield intelligence to our Armed Forces."
"They will be able to fly higher and for longer to gather constant, reliable information over vast geographical areas," he added.
You can share this story on social media: