Robot drills electrodes into British teen's brain, cures epilepsy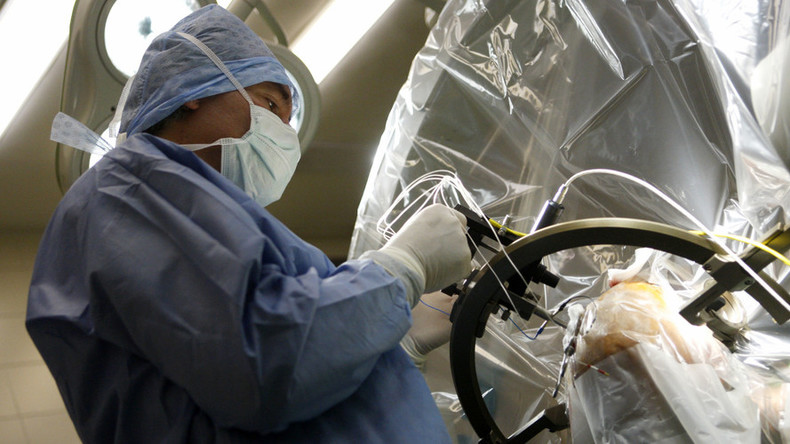 A British teenager has become the first child in the UK to be cured of epilepsy by a robot that drilled deep into his brain.
Billy Whitaker, 15, had suffered daily seizures for seven years until the operation two weeks ago, which medical experts are convinced has cured him.
The procedure used a £350,000 ($503,455) robot, practically the same as those used on car factory production lines, to drill electrodes into Whitaker's brain.
The electrodes then pinpointed the epicenter of his debilitating attacks with accuracy for the first time, enabling surgeons to remove the tiny piece of brain causing the seizures.
Whitaker previously underwent a conventional epilepsy operation, which involved removing a different part of his brain, but the procedure failed to cure his attacks.
Doctors are confident this latest operation has cured the epilepsy for good, but said "only time will tell."
Consultant neurosurgeon Michael Carter said they suspected several parts of the brain, which could have caused the residual seizures.
"We used the robot to implant a series of electrodes using ultra-high, sub-millimeter precision into these small areas of the brain, in order to see if his seizures were coming from them," he said.
"In fact, we located the area absolutely beautifully using one of the electrodes and on the strength of that we took him back to theatre a week later and we removed the area of brain tissue that was defined by the examination.
"We can use the robot to define extremely safe and high precision trajectories through the brain tissue, so that we can implant a number of electrodes through tiny little holes in the skull, with little stab incisions, directly into the areas we want. It is incredibly well tolerated, and got a very high safety profile, and gives us very high quality recordings," he added.
Speaking after the operation on January 21, Billy said he was looking forward to playing sport again.
"Being seizure-free means I will be able to take part in sports like football and rugby again. I love playing sport and continue to play golf, but since my epilepsy diagnosis I can no longer play for teams as this often increases the number of seizures I have," he said.
"It is exciting to be the first patient to have been treated at the hospital with this technique, especially as I and my family have traveled all the way from Cornwall.
"Although it is sometimes boring being monitored, the care I have received and the nurses who have treated me, have inspired me to look at the potential of working for the NHS and in a hospital."
You can share this story on social media: