Syrian refugees in Lebanon face sexual harassment, exploitation – Amnesty report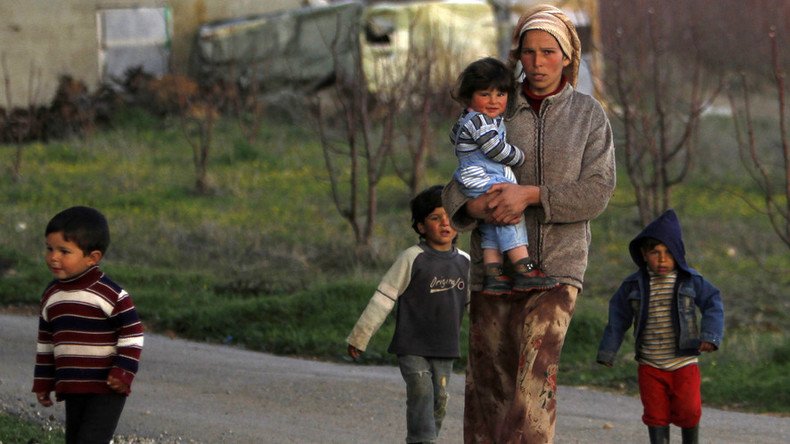 Discriminatory policies imposed by the Lebanese government and insufficient international assistance are creating fertile conditions for the abuse and exploitation of Syrian refugee women, an Amnesty International UK report has warned.
The 60-page report, titled "I want a safe place: Refugee women from Syria uprooted and unprotected in Lebanon," was published on Tuesday.
It reveals how the Lebanese government has refused to renew residency permits for refugees and a shortfall in global funding has left refugee women at risk of exploitation by employers, landlords and even the police.
Gender researcher at Amnesty International Kathryn Ramsay said most Syrian refugees in Lebanon are living in desperate conditions and are often struggling to survive.
"They face widespread discrimination and major obstacles in obtaining food, housing or a job," she said.
"It was very clear to the women we spoke to that the harassment and exploitation they face is made even worse by the fact they have nowhere to turn to for help and protection because they lack valid residence permits."
In 2015, Lebanon prevented the UN Refugee Agency from registering Syrian refugees and implemented new regulations that make it difficult for refugees to renew their residency status. In the absence of such papers, refugees face arrest, detention and possible deportation. As a result, many are afraid to inform the police about abuse they are subjected to in Lebanon.
Poverty and exploitation
Approximately 70 percent of Syrian refugee families are forced to live significantly below Lebanon's poverty line. The UN's humanitarian response to the Syrian refugee crisis has been gravely underfunded, and in 2015 only received 57 percent of the funds it requested for its work in Lebanon.
Securing and affording accommodation is another serious challenge for displaced Syrian refugees. Close to 58 percent live in rented houses or apartments, while others are forced to subsist in casual settlements and dilapidated buildings. Many women told Amnesty they could not afford high rents and had found themselves in squalid dwellings.
Amnesty's report said 20 percent of Syrian refugee households in Lebanon are led by women, who in certain cases have become the primary providers of income after the death, abduction or imprisonment of their husbands.
In addition, many women said they are struggling to afford the high cost of living in Lebanon, which puts them at further risk of exploitation. Others said they had experienced inappropriate sexual advances from men or offers of financial help in return for sex.
One 56-year-old Palestinian refugee from Syria, who lives in a refugee camp in Beirut's southern suburbs, told Amnesty she does not allow her daughters to work in case they face harassment.
"My daughter worked in a store. The manager harassed her and touched her. That is why I don't let my daughters work now," she said.

Several other women also said they had fled a job or not accepted a job because they believed their boss's behavior was inappropriate.
In a climate of heightened discrimination against refugees in Lebanon, refugee women who have found jobs reported receiving excessively low wages from employers.
'Britain must do more to help Syrian refugees'
Amnesty's report called upon the British government to adapt its immigration rules to allow families to reunite so that British citizens can sponsor refugees to travel to the UK and join their relatives. It also urged the wider international community to increase the number of resettlement places for Syrian refugees and the number of safe routes out of the war-torn country.

The human rights group also urged the international community to ramp up financial assistance to those who need it most and use Friday's donor conference in central London to follow through on the UN's funding requirements for the Syrian crisis.
Amnesty International UK's Refugee and Migrant Rights Director Steve Symonds called on the world's wealthiest states to do more to address the refugee crisis.
"As the second-largest bilateral donor, the UK should put pressure on others to significantly increase their commitments to help Syrians living in often desperate circumstances right across the Middle East and Europe," he said.
"The UK should also play a much fuller part in itself receiving more Syrian refugees."
Symonds said Britain's handling of the crisis had made some progress but still requires improvement.
"The government's commitment to resettle 20,000 Syrians was an improvement on the tiny number of places previously offered, but it's far short of what this crisis requires. We can't leave it all to countries like Lebanon, Jordan, Turkey or Germany," he said.

"One very important step would be for the UK to open up family reunion opportunities under immigration rules so that British citizens and others settled in this country can sponsor refugees to join them here."
You can share this story on social media: