England's youth 'worst at literacy & basic math' in developed world – report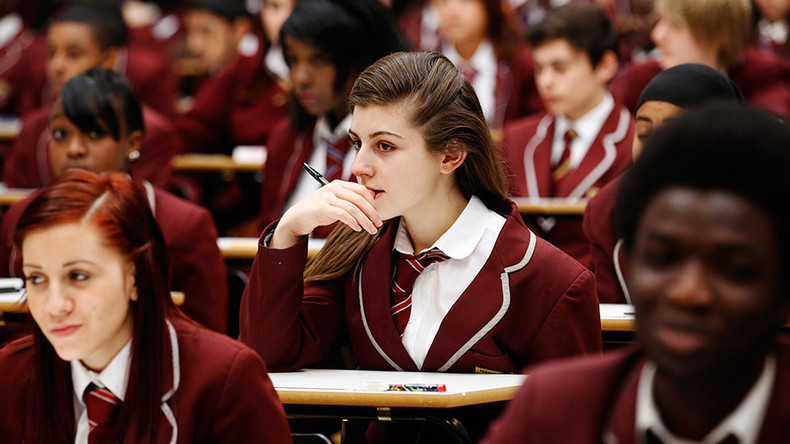 Literacy rates among young people in England are the lowest in the developed world, with many students graduating high school with only a basic grasp of English and math.
An in-depth analysis by the Organization for Economic Co-operation and Development (OECD) ranked English teenagers aged 16 to 19 the worst of 23 developed nations in literacy and 22 out of 23 in numeracy.
The report, based on 2012 data, found that England was better off investing its money in basic education rather than trying to broaden access to university.
England has three times as many low-skilled 16-to-19 year olds as top-performing countries such as Finland, Japan, South Korea and the Netherlands.
The study found one in five young university graduates could manage basic tasks, but struggled with more complex problems.
Some 7 percent of 20-to-34-year-old graduates in English have numeracy skills below Level 2 and 3.4 percent have literacy skills below this level, meaning they have difficulty understanding instructions on an aspirin bottle.
"University teaching gives limited attention to low levels of literacy and numeracy. Graduates with low basic skills gain modest returns from their qualifications and will often not be able to repay their student debts. England has a large university system relative to a poorly skilled pool of potential entrants," the report concluded.
The report acknowledged that reforms implement by former Education Secretary Michael Gove and his successor Nicky Morgan are expected to improve standards.
But critics said the report highlighted the government's failure to improve education.
The OECD warned: "In England, the weak basic skills of young adults compared with other countries can be traced back to a lower standard of performance at the end of initial education."
"The priority of priorities is to improve the standard of basic schooling in England," it adds.
A government spokeswoman said ministers will maintain their focus on literacy and numeracy.
"Good English and maths skills are essential to success in later life, and thanks to our reforms thousands more students are leaving education with these vital skills."
"While we are pleased the OECD recognizes the progress we have made, we are not complacent, and will maintain our relentless focus on literacy and numeracy so all young people have the chance to succeed," the Mirror reports.
You can share this story on social media: