#StopArmingSaudi: Activists target UK weapons in Yemen at plush London arms trade banquet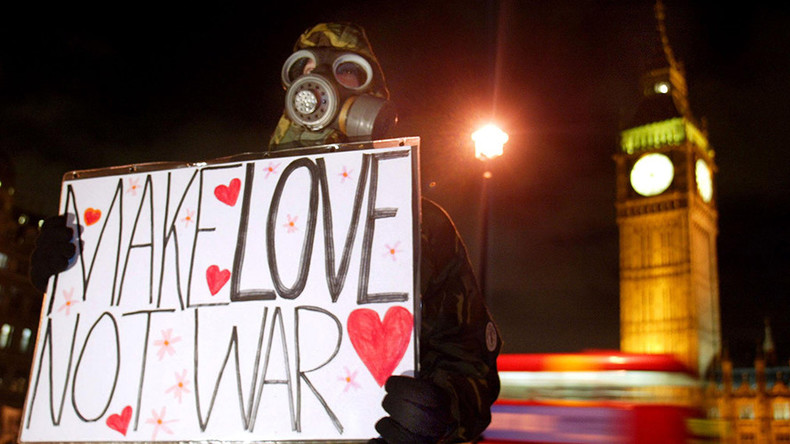 Anti-arms trade campaigners will protest outside the glamorous Hilton Hotel on London's lavish Park Lane next week as arms giants and MPs gather for their swanky annual industry dinner.
The demonstration follows similar protests in 2015, when a pregnant activist stormed onto the podium during dinner to give an impassioned speech about the devastating effects of the arms trade.
This year, the protest's focus is Britain's trading relationship with Saudi Arabia, which is waging war on Yemen's Houthi rebels.
"As millions of people in Yemen struggle to find enough to eat, arms dealers profiting from the country's devastation will gather in London for a £250/head dinner," the Facebook group for the protest reads.
"The Saudi-led bombing of Yemen has killed thousands and caused a humanitarian crisis. 14 million people are facing food insecurity and 1.4 million children are acutely malnourished."
The Campaign Against the Arms Trade (CAAT) says Britain sold £2.8 billion worth of arms to Saudi Arabia during the first five months of bombing, "despite evidence that war crimes have been committed."
"Don't let them dine in peace as lives are torn apart elsewhere. Join us to protest at the dinner and build the pressure to #StopArmingSaudi," the group says.
Some of the arms traders expected to attend the dinner include BAE Systems, Finmeccanica, Raytheon and MBDA, alongside many prominent politicians.
In her speech last year, the pregnant activist told assembled arms dealers and MPs that making profit "causing death and destruction around the world" was unacceptable.
After making her way to a microphone undetected, Anne Marie O'Reilly said her unborn child faced a world where arms dealers profit from human suffering and bloodshed. The incident was caught on camera and shared widely online.
This year's protest comes as the Labour Party pressures the government to re-establish the parliamentary watchdog on arms exports to ensure British arms are not being used to breach international humanitarian law.
Last week, Shadow Foreign Secretary Hilary Benn said a "detailed assessment" was necessary.
The war in Yemen has left more than 7,000 civilians dead. There is a growing body of evidence to suggest Saudi is deliberately targeting civilians with British made weaponry.
"Given the growing number of reports and public concern, I believe the case for a full and detailed assessment of whether there is a clear risk that British weapons might be used in violation of international humanitarian law in Yemen is now overwhelming. I hope therefore that the new committee will urgently consider examining the government's approach to these licenses," Benn wrote to the government.
You can share this story on social media: