'Beaten, raped, abused': Gangsters use UK airports to traffic vulnerable women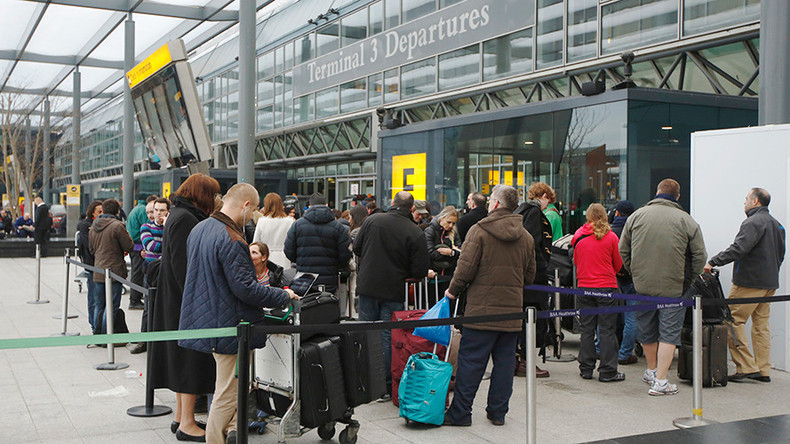 British airports are increasingly being used as gateway points to the European Union by Nigerian sex trafficking gangs that are keen to find safer routes into Europe than perilous voyages across the Mediterranean, Spanish police say.
Earlier this week, a Spanish crime squad officer based in Barcelona said his team had intercepted a Nigerian criminal syndicate that was running a network of trafficked prostitutes across the city. The gang, which is known as Supreme Eiye Confraternity (SEC), has also been accused of using fake documents and passports to fly Nigerian victims into prominent British airports.
The gang has targeted key airports in Britain such as Gatwick, Catalonia police's anti-trafficking chief Xavier Cortes told the BBC on Tuesday. He stressed that the SEC and other Nigerian criminal outfits prefer trafficking their victims through Britain, but emphasized they require the cooperation of government officials in Nigeria to do so.
The SEC's victims are reportedly approached by traffickers in Nigerian cities and towns, and lured by the promise of making money through sex work. One woman, who was beaten, raped and forced to have sex seven nights a week, told the BBC she was unaware of the pain she would have to endure when she first encountered the traffickers.
Another woman, who was also drawn into the gang's lurid web, said she was struck over the head with a glass bottle after telling a gang member she could not give him the money he had demanded. The trafficking victim, who was freed after a raid by police in Barcelona, also revealed she was covered in scars.
In 2014, over 240 million passengers travelled through British airports. Britain's National Crime Agency (NCA) estimates that the number of potential victims of human trafficking in Britain rose by 21 percent the same year. The victims' nationalities were only known in 2,100 cases, almost 9 percent of which were Nigerian.
The NCA says the rise in trafficking cases in the UK could be a result of police and other professionals' improved methods for detecting such criminal activity. Victims are trafficked from all over the world into Britain, and are based in regular cities and towns across the state. Vulnerable people living in Britain are also targeted, as traffickers move them around the country and profit from their exploitation.
The raid on the criminal gang in Barcelona required 18 months of planning and led to 23 arrests. However, police say the SEC still has hundreds of members running operations in Nigeria.
In 2014, 70 percent of Nigerian citizens who sought asylum in Britain had their applications refused. Meanwhile, the Nigerian government has failed to uphold basic standards for the elimination of human trafficking, according to Home Office records.
Slavery has become a global business and the source of huge profits for criminal syndicates.
The exploitation of people for profit occurs in multiple ways, including forced labour, child trafficking, sex slavery and domestic servitude. Because trafficking networks are notoriously fluid and adaptable, they often evade detection. Although successive governments across Europe have attempted to tackle trafficking networks, their successes remain limited.
You can share this story on social media: