Police probe porn star's hardcore film that defiles 137yo Warwickshire church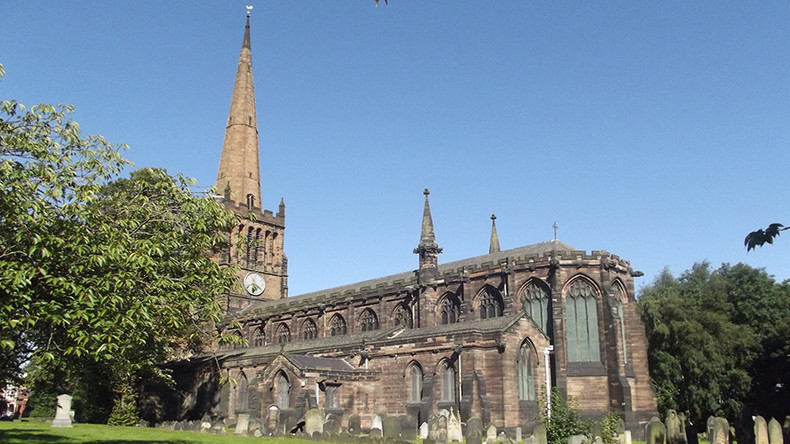 A pornographic movie filmed on the "sacred" grounds of a 137-year-old church in Warwickshire two years ago is being studied by police, it has emerged.
The explicit movie, which was allegedly filmed by website Porn XN, features Hungarian porn star Lyen Parker urinating and dancing half-naked in front of a sign by St Peter and St Pauls Church in Water Orton.
A narrator in the X-rated movie says: "At the moment we are in this churchyard, which is pretty naughty."
"We'll quickly run away before we get any vicars running after us – trying to shout at us," the voiceover added.
The movie was filmed in August 2014, but outraged members of the community have only started to file complaints now.
Following a meeting with Reverend Paul Tullet from the church in January, Warwickshire police have announced it is investigating the allegations.
"We can confirm officers from Warwickshire Police are investigating allegations of outraging public decency in Water Orton and Coleshill that occurred in August 2014," the force said in a statement.
"Officers met with church officials on Tuesday 26 January to discuss the alleged offences and enquiries are ongoing."
Parishioners have been shocked by the hardcore movie.
Rev Tullet said he is disgusted by the adult film company shooting the explicit video in a "sacred place."
He told The News: "The church is visited on a regular basis by mums and dads who've lost their children – and to think this sacred space, so treasured and valued, has been abused and used for something so inappropriate is shameful and upsetting.
"The parishioners and the whole community are all shocked and upset that something like this could happen in our church, and in our village."
He confirmed that no permission had been given to the adult film company to record the hardcore movie, which went viral on social media.
Rev Tullett added: "It's a public space, so I don't think they've broken any rules or laws by filming on the grounds – although I think her acts were certainly illegal, her presence wasn't.
"There is no easy way to secure the church or lock it up, and there's no gate, so it would have been very easy for them to access the grounds – but I certainly would never have given permission for them to film such disgusting acts here, and I'd look into tracking down the people who made it and ask them to take it down.
He added: "Everyone is just so annoyed and outraged that something like this took place in our village – I think anyone would be."
You can share this story on social media: