Long overdue F-35 jets will finally be flown at UK air shows – by Americans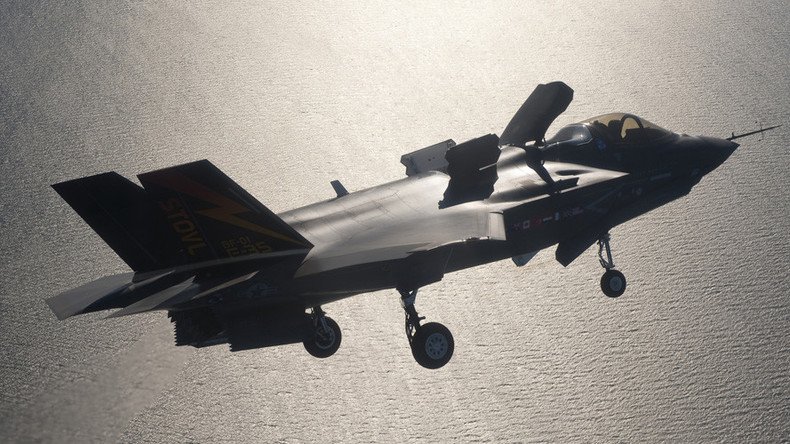 Long-delayed by technical problems and hugely expensive, F-35 stealth fighters will finally be flown for the public at air shows in the UK by American pilots.
The public will be able to see the high tech F-35B at displays in Farnborough Air Show and the Royal International Air Tattoo in Gloucestershire in July.
However, the jets on display will not be British planes flown by British pilots, but will instead be from the United States Marine Corp (USMC), according to Reuters. The UK "hopes" to be able to fly one of its own aircraft, the news agency said.
In a statement, head of USMC aviation Lt Gen Jon Davis Deputy said: "The US Marine Corps is looking forward to demonstrating the capabilities of the F-35B Lightning II in the skies over the United Kingdom this July."
The jets cost £70 million each and Britain has ordered 48 for its navy and air force with a view to eventually owning 138. The aircraft will be combat ready by 2018, according to the Ministry of Defence (MoD).
The F-35 has been wracked with delays and technical problems for a number of years, delaying its intended introduction into service in 2012.
The Royal Navy's new aircraft carrier HMS Queen Elizabeth will host the F-35 when it comes into operation in 2020.
The F-35 Lightning II is set to be most the expensive and sophisticated fighter jet in the world. Virtually invisible to radar, the jet has world's most powerful fighter engine, according to Lockheed Martin's website.
The weapons manufacturer describes the F-35 as an affordable aircraft.
"Since the first operational F-35 was produced, the price has dropped 55 percent. The program is committed to ensuring price for the latest procurement of jets cost less than the previous lot," the firm claims.


You can share this story on social media: