Tory clampdown on ethical investments branded 'assault on democracy'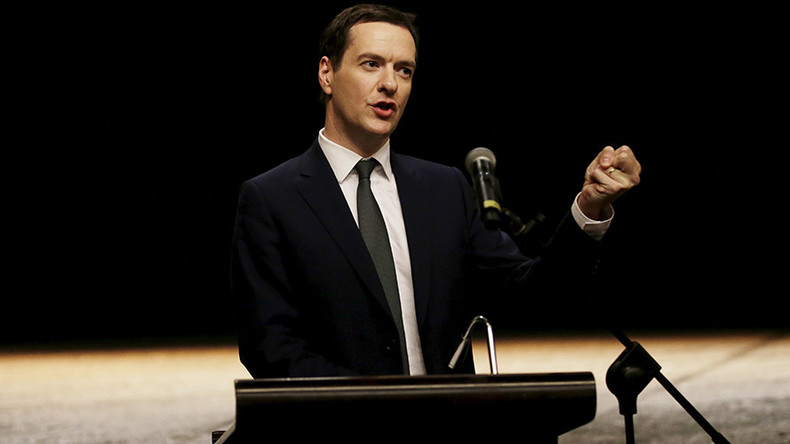 Conservative government attempts to stop councils from making ethical investment decisions is an assault on local democracy and campaigners' rights, a leading anti-arms charity has said.
The policy change was announced in November 2015, and was prompted by the spread of hardline divestment campaigns against Israeli and UK defense companies. Under the plan, central government will have the power to veto council investment decisions made on ethical grounds relating to the arms trade, human rights and fossil fuels.
The government's proposal has angered human rights and ethical finance campaigners, who say it undermines democracy.
In recent years, councils had begun discarding fossil fuel, tobacco and arms firms from their investment portfolios, while others passed motions stating they will not buy services from firms that assist with Israel's illegal occupation of the Palestinian territories.
'Attack on democracy'
Speaking to RT on Monday, Andrew Smith of Campaign Against the Arms Trade (CAAT) said the government's policy change is political.
"What it amounts to is an attack on local democracy and the rights of campaigners," he said.
"It may be anti-arms trade and pro-Palestine activists who the government is targeting today, but if the precedent is set then they can use it against any campaigners they want to in the future.
"The message it sends out is that the reputations of arms companies and support for the occupation of Palestine are more important to the government than democracy."
Smith further argued that councils are supposed to represent the interests of local citizens and respond to their needs.
"Surely, if they really believe in empowering councils and promoting local decision making, then they should also allow councils to decide where their money is invested?" he said.
Culture of unethical investments
The Local Government Pension Scheme has 4.6 million members in Britain, including teachers, social workers, librarians and other employees in local government jobs. It is a decentralized program, with decisions made at a local level on how pensions are invested.
Anti-poverty charity War on Want stresses this process offers all stakeholders a say, and facilitates public debate and discussion that ensures local government remains representative of the values of the local community.
Although the government claims the new regulations will allocate more power to local councils, War on Want insists this is "nonsense."
"Under the proposal, central government will have a veto over decisions made locally. This is unfair and anti-democratic and simply highlights the dishonesty at the heart of the government's plan," the group says.
The government's consultation period concerning local authorities' investment practices will come to a close on February 19. In an effort to highlight the undemocratic nature of the government's proposed policy change, campaigners have launched an online petition demanding it scrap the move.
The petition calls upon the government to respect councils' investment decisions and the integrity of local-level democracy itself. As of Monday afternoon, it had attracted over 7,200 signatures.
While some councils in Britain seek to invest funds ethically, others are less discerning. In 2015, scrutiny of council pension fund investments uncovered links to the arms trade, tobacco companies and the global pharmaceutical industry.
From Glasgow to Hackney, UK local authorities were found to be investing taxpayers' hard earned cash in unethical sectors of the economy in the hope of securing stable returns.
Ethical finance campaigner and researcher Joel Benjamin says virtually all local authorities across the UK are investing unethically.
Benjamin, who is carrying out investigative research into local authorities' financial flows, says this investment occurs "directly via shares or indirectly in pooled funds which track the FTSE 100."
You can share this story on social media: