More Russian spies in Britain now than during Cold War, security expert claims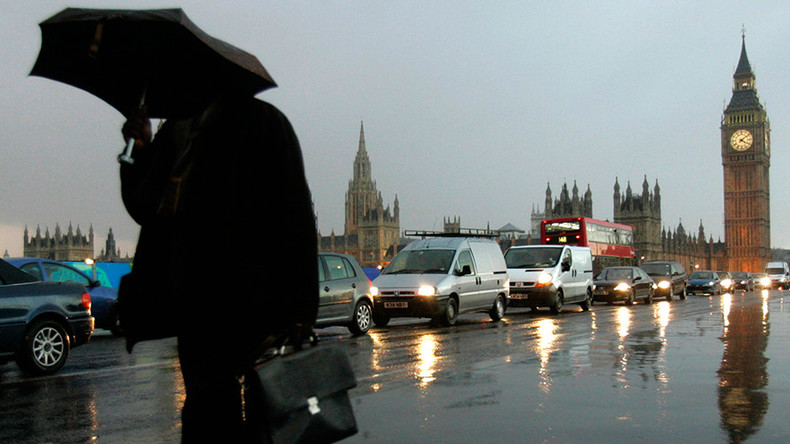 Potentially more Russian spies are operating in Britain now than during the Cold War, a Russian security expert has said.
Speaking to the Times on Monday, Moscow-based journalist and intelligence expert Andrey Soldatov said there are a least 30 Russian spooks spread across the UK operating under diplomatic cover or a false identity. A third group of spies are Russian nationals, often businessmen, who live openly in the UK, he said.
Soldatov said each of these groups are recruited and trained by Russian security services to collect intelligence. London and towns and cities close to Royal Navy bases are reportedly common targets.
He claims there are currently three Russian intelligence bodies with active operatives in the UK: the GRU military intelligence agency; the SVR foreign intelligence service; and the FSB.
Russian agents are allegedly gathering secret data on the UK's military campaign in Syria, on military technology and science, and on political developments in Westminster.
Soldatov, who was branded perhaps the most "prominent critic of Russia's surveillance apparatus" by NSA whistleblower Edward Snowden in 2014, has been interrogated by FSB investigators on a number of occasions.
"The FSB is mostly concerned with gathering information about people who might present some kind of threat to the authorities in Russia, such as Russian dissidents living in the UK," he said.
Evidence of British and US spy activities in Russia has also captured headlines.
MI6 was reportedly forced to suspend spy activity due to exposure in "hostile states" following Snowden's leaks. In June 2015, the Sunday Times alleged both Moscow and Beijing had cracked top-secret encrypted documents leaked by Snowden and thus learnt of MI6 methods.
The paper cited unnamed officials in Prime Minister David Cameron's office, the Home Office and national security services as its sources.
Snowden, who fled to Russia via Hong Kong in June 2013, is believed to have collected some 1.7 million documents from US government computers. He maintains he leaked them to secure privacy and civil liberties worldwide.
London is perceived by some as a safe haven for Russian opposition figures who have fled their homeland. Soldatov's remarks come after a UK inquiry found that Russian President Vladimir Putin "probably sanctioned" the murder of Russian spy Alexander Litvinenko in London in 2006.
In the wake of the inquiry, Shadow Home Secretary Andy Burnham called upon the government to review the death of a second Russian dissident that occurred on British soil.
Businessman Aleksandr Perepilichny had fled to Britain after uncovering information linked to an investigation into a £148 million (US$211 million) Russian money-laundering operation.
In the run up to his death, he was working to uncover fraud in Swiss bank accounts, while also being sued by a Moscow consultancy firm. Police had initially excluded the possibility of foul play following his death in 2012, but a preliminary inquest hearing in 2015 revealed that the tycoon may have been poisoned by a rare substance.
Reflecting on the matter, Burnham suggested Perepilichny's inquest be upgraded to a public inquiry. The Russian businessman was one of two men named as the main suspects in the murder of Litvinenko.
In December, Britain's Investigatory Powers Tribunal (IPT) was told that GCHQ is "persistent" in its hacking of phones and computers across the globe. The spy agency's surveillance techniques include microphones and cameras built into devices to spy on people, and technology that locates peoples' position and accesses their documents.
You can share this story on social media: