World's first floating windfarm drives job creation in Scotland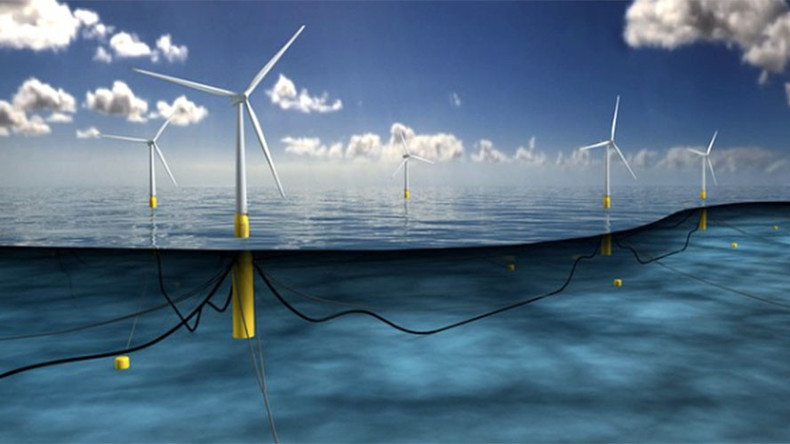 The world's first floating windfarm set to be built 15 miles off the coast of Scotland will create "hundreds" of jobs, according to the state-owned Norwegian oil company behind the project.
Statoil's Ola Morten Aanestad revealed the news during a public event Friday.
The Hywind project will see five 1,000-ton turbines anchored in the ocean and secured by cables.
With no attachment to the sea bed, the turbines will be left to float. This method of anchoring rather than securing will allow the turbines to be built in deeper water, away from the coast where those who prioritize visual aesthetics over a cleaner environment criticize the farms as being an eyesore.
The update from Statoil, which is mostly owned by the Norwegian government, came the same week as a new review of its oil stocks by the controversial ratings agency Moody's.
Statoil's prediction that the oil market would recover in 2016 goes against forecasts from the International Energy Agency who predict a further decrease in crude prices beyond their current 12-year low.
Aanestad, the head of of communications for Statoil in Aberdeen, said the project would create jobs in Scotland and elsewhere in the UK.
He was speaking at a public meeting in Peterhead, Scotland where the farm's construction will be operated.
The floating windfarm is the first of its kind. Previously a sole floating turbine was successfully tested in Norway as part of a pilot.
The turbines at the Hywind project will operate in water with a depth of 360ft (109m). Engineers believe that the model could be suitable for depths of up to 3,600ft (1,097m).
Plans for the windfarm were approved by the Scottish government in November last year.
Construction is scheduled to begin this summer with Statoil saying they hope the Hywind project will be operational by 2017.
Statoil's move away from land farms comes shortly before the removal of the Renewable Obligation (RO) subsidies for onshore windfarms in April of this year, which were introduced in 2002 to encourage energy companies to increase their use of renewable sources through incentives.
The subsidies are credited with encouraging an overdevelopment of windfarms in the UK which would not otherwise be financially viable.
You can share this story on social media: