'Save us Bill Gates!' Satirical video game slams billionaire's philanthropy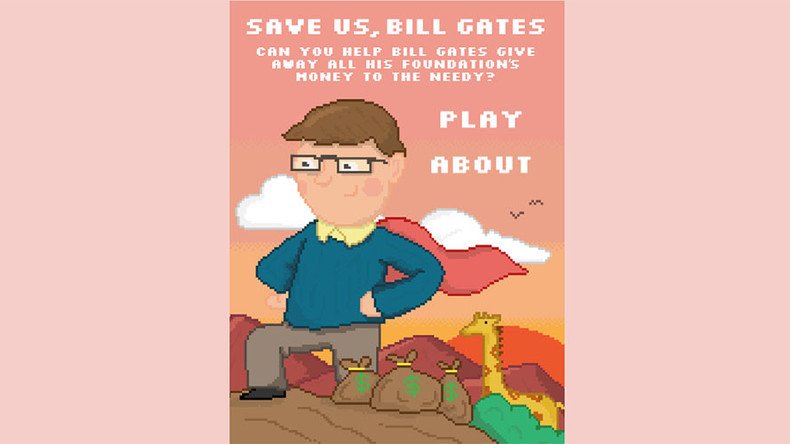 Anti-poverty campaigners have launched an online video game satirizing Bill Gates' global philanthropy by featuring a pixelated version of the billionaire flying across a stereotypical African landscape.
'Save us, Bill Gates' was released on Friday by UK campaign group Global Justice Now in a bid to highlight the business magnate's role in international development.
The game's creators opted for 1980s-style animation, and have made it impossible for Gates' character to lose money. Players must try to throw away all his money within 30 seconds by clicking their mouse. But no matter how hard players click, the billionaire's wealth increases as the game goes on due to his investments in fossil fuels and tax avoidance - making it impossible for him to donate his fortune.
Global Justice Now's campaigns and policy chief, Polly Jones, said the game shows how Gates' free market approach to development holds the potential to make poverty and inequality even worse.
"The 'Save us Bill Gates!' video game is clearly a tongue-in-cheek piece of fun, but the underlying issues it points to are very serious. It's very disturbing that a small handful of obscenely rich individuals can exert an enormous influence on education, healthcare and agriculture policies around the world," she said.
"The vision of development that the Gates Foundation is pushing is one derived from the free market, big business values of corporate America, and has the potential to make poverty and inequality even worse.
"People in countries across the global south don't need 'saving' by the likes of Bill Gates. They want justice and not charity, with changes in the unfair trade rules and tax legislations that mean that these countries are systemically impoverished."
The game's launch comes a day after the publication of a damning report by Global Justice Now on the business magnate's influence on the field of international development.
The report found that the Bill and Melinda Gates Foundation (BMGF) is distorting the direction of global development towards corporate globalization.
Among the report's key criticisms was the relationship between Microsoft's tax-dodging practices and the money that the BMGF donates. According to a 2012 US senate report, the Gates-owned tech giant used offshore subsidiaries to avoid paying $4.5 billion in taxes, while the foundation issued grants totaling $3.6 billion in 2014.
Global Justice Now is urging the BMFG to undergo an independent international review. The campaign says this could be orchestrated by the Organization for Economic Co-operation and Development's (OECD) Development Assistance Committee, but insists such a process should be transparent and include stakeholders impacted by foundation-funded projects.
The report's publication coincides with Bill Gates' promotion of his own brand of 'philanthrocapitalism' at the World Economic Forum's annual meeting in Davos, Switzerland.
Some 2,500 business chiefs, global political leaders, intellectuals and reporters are gathered in the Swiss resort to discuss the most serious issues facing the world, including poverty and climate change.
You can share this story on social media: