312 English schools failed to meet govt GCSE threshold in 2015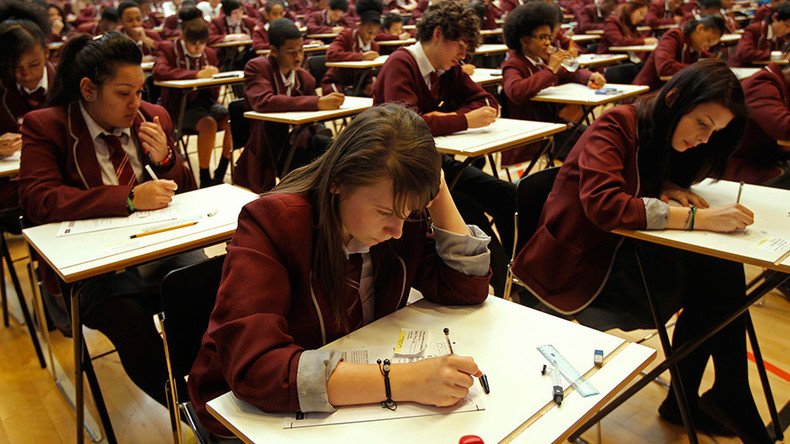 Over 300 secondary schools in England failed to achieve the government's basic GCSE threshold last summer for the second year in a row, new figures show.
Research published on Thursday by the Department for Education revealed less than 40 percent of students in 312 schools across England achieved five GCSEs at C grade or higher. Key subjects concerned included English and Maths.
Of the schools examined, 188 under-performing schools were academies, 50 were council-run schools, 45 were foundation schools and 14 were voluntary aided, according to the department's research.
In the summer of 2014, 330 schools failed to meet the government's basic benchmark, while 154 schools were below target the previous year.
Ministers sought to play down Thursday's figures, saying the failure rate is "stable" in comparison with the previous year. They also highlighted improved results in schools that were taken over by academy sponsors.
Britain's Minister of State at the Department for Education Nick Gibb said the department's figures indicate that some children are in jeopardy.
"Today's results show how far we have come in raising standards but they also highlight where some pupils are still at risk of falling behind," he said.
"We refuse to accept second best for any young person and we must now focus on extending opportunity for all. This government is giving all young people, irrespective of their background, a fair shot in life and we must not let up the pace of reform now."
Deputy General Secretary of the Association of School and College Leaders Malcolm Trobe said schools shouldn't be measured on GCSE attainment.
"Measuring schools on GCSE attainment does not take into account the fact that children are at different points when they start their secondary education," he told the Times newspaper.
A new measure set to to be introduced this summer will calculate how much progress students made during their time at secondary school, rather than solely recording their academic attainment. The initiative does this by noting progress in students' best eight GCSE subjects.
Head teachers at 327 schools across England agreed to have their students' results processed in this way in 2015. A mere 17 of these were reported to be failing to meet a separate performance threshold.
You can share this story on social media: