Wall Street bankrolls campaign to keep Britain in EU – sources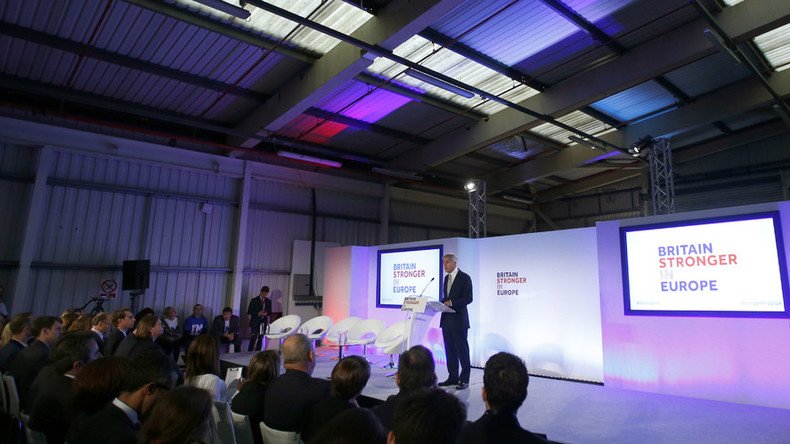 Banking giants Goldman Sachs and JP Morgan have reportedly donated several hundred thousand pounds to the Britain Stronger in Europe campaign ahead of a referendum on the UK's membership of the European Union.
In the strongest sign yet that Wall Street is worried about a potential British exit from the bloc, two of the world's biggest financial players are said to be preparing large donations to the campaign for staying in.
Goldman Sachs plans to give a "substantial six-figure sum" according one source, while JPMorgan intends to make a similar donation, a separate source told Reuters.
Others firms, such as Morgan Stanley, are said to be likely to donate but a figure has yet to be decided.
Senior figures at Goldman Sachs have spoken out about the importance of Britain remaining in the EU.
The co-chief executives of Goldman Sachs International – the London arm of the bank – wrote in the Times in 2013 that a Brexit would be against the UK's national interest.
"Our location in London allows us to use the professional expertise in the City to serve broader European and global markets," Richard Gnodde and Michael Sherwood wrote.
"And from discussions with peers and clients we know our situation is far from unique. Large international and European companies see a Britain divorced from the EU as a much less attractive place. Threats to British involvement in the EU are threats to British business."
Gnodde told German newspaper the Frankfurter Allgemeine Sonntagszeitung last June that it was in the economy's interest that Britain remain part of the EU.
"Britain must remain part of a larger economic bloc. Anything else would damage the broader economy as well as the financial sector," he said.
The debate over Britain's membership of the EU has become heated in recent weeks, with pro-Brexit campaigners saying the UK risks an increase in Cologne-style sex attacks by immigrants unless the country votes to leave the bloc.
Vote Leave campaign director Dominic Cummings said that nothing will stop the migrants who carried out the string of attacks in Cologne on New Year's Eve from coming to the UK once they have German passports.
His comments were echoed by UKIP leader Nigel Farage, the country's most prominent Euroskeptic, on BBC1's Sunday Politics.
"What you can't do is take away from ordinary folk out there scenes such as Cologne and saying to themselves in three years' time all these people will have EU passports and will be able to come to Britain," he said.
You can share this story on social media: