Syria crisis: Britain considers humanitarian aid drops in extreme circumstances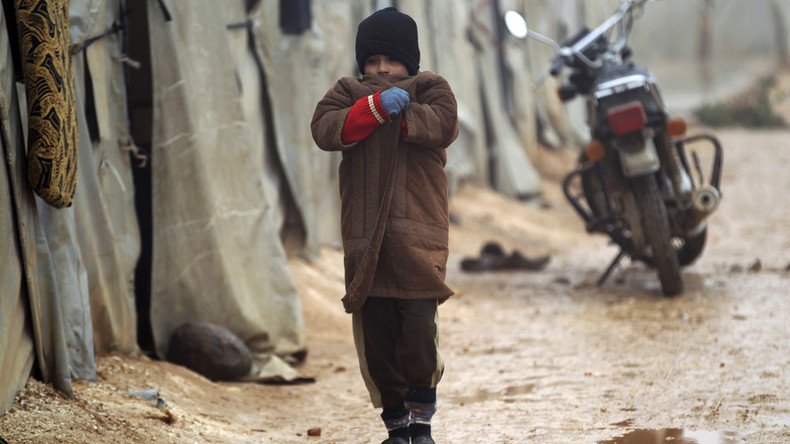 Dropping aid parcels to besieged towns in Syria is being considered by the Ministry of Defence and the Department for International Development but would only occur as a last resort, the Secretary of State for International Development has said.
Speaking at a discussion on humanitarian aid to Syria, Tory MP Justine Greening said there are numerous problems with dropping aid parcels to the most vulnerable communities there.
The minister expressed concern that using RAF planes without the permission of the Syrian government would breach international law, potentially compromise other forms of aid delivery and allow goods intended for civilians to fall into the wrong hands. Greening also warned that RAF flights taking aid could be shot down by the Syrian Army.
"It is incredibly dangerous – aid convoys are often trying to cross battle lines and go into war zones to get to people who are stuck," she said.
"If you cannot guarantee safety and security, there is a real danger that the aid you are sending down the road will not make it, and far from helping the people in need, the risk is that it gets commandeered by the very people that are besieging the people you are trying to help."
The humanitarian crisis in Syria will be discussed in early February at a conference in London, chaired by Prime Minister David Cameron. The conference will focus on delivering aid to the most war-torn areas in Syria and attempt to raise some £4.95 billion ($7 billion) towards the crisis.
Representatives from an estimated 20 states are expected to attend, including Russian President Vladimir Putin and German Chancellor Angela Merkel. The conference will feature debates and discussions on the long-term future of Syria and as well as peacebuilding efforts concerning the war-torn state.
"It has always been understood that however much there may be political stalemate there are some things we should agree on such as civilians not being deprived of life-saving medicines and food," Greening said.
"These things should not be a matter for debate. When people look back on this crisis, the most shocking and disturbing aspect will be these people that could not be reached – a wholesale systematic infringement of humanitarian law."
Her comments come as the National Audit Office revealed that British food aid to Syria has been stolen by armed fighters. The auditors did not say whether the parcels had been taken by robbers or by militia men from Islamic State (IS, formerly ISIS).
The report, released on Thursday, states that food baskets are targeted by thieves and that safety precautions are not always effective because the frontlines of the battle shift so rapidly.
You can share this story on social media: