Red doors stigmatize asylum seekers, residents claim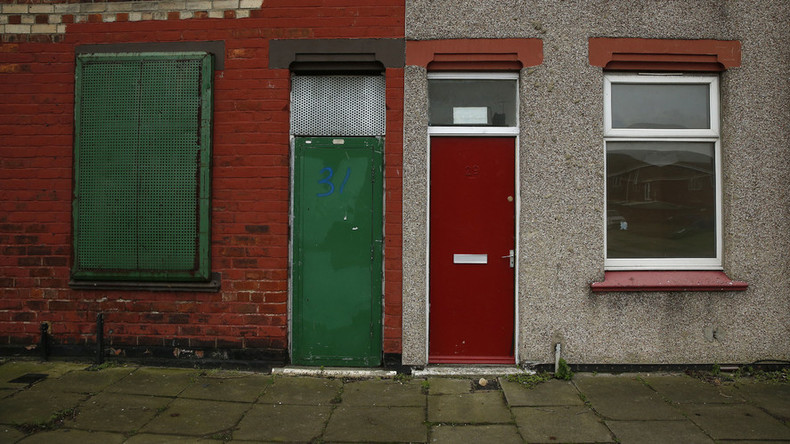 Hundreds of asylum seeker families in northeast England have been housed in properties with red front doors, making them easy targets for racists, a newspaper investigation has claimed.
Several doors in Middlesbrough were allegedly painted red to single out asylum seekers living in the area, according to findings from an investigation by the Times newspaper.
Investigators examined 168 homes in Middlesbrough, owned by Jomast, a subcontractor of services giant G4S. Of those properties, 155 had red front doors.
Some 66 of those with red front doors were occupied by asylum seekers of 22 nationalities, the investigation found.
Speaking to the Times, one family of asylum seekers said they felt so stigmatized that they were forced to paint their door white.
However, soon after, it was repainted red when a Jomast employee inspected the home and said it was "against company policy."
Another family claimed a group of hooligans approached their red door and shouted "F--- you dirty women. Get out of our country."
'Deeply concerned'
Commenting on the allegations, Immigration Minister James Brokenshire said he is "deeply concerned" by the issues raised.
"I am deeply concerned by this issue and I have commissioned Home Office officials to conduct an urgent audit of asylum seeker housing in the northeast," he said in a statement.
"I expect the highest standards from our contractors. If we find any evidence of discrimination against asylum seekers it will be dealt with immediately as any such behavior will not be tolerated."
It appears this isn't the first time residents in Middlesbrough have complained about their red doors.
Fletcher, a local resident who chairs the Liberal Democrats for Seekers of Sanctuary said she pressured G4S to address the issue four years ago.
"In September 2012, we asked G4S if they would do something about the red doors and they replied that they had no intention of doing anything about it," she told BBC Radio 4's Today program on Wednesday.
"The police obviously have done everything that they can do but because asylum seekers are so vulnerable, they are frightened of jeopardizing their case, things haven't always been reported," she added.
'Repainting red doors'
On Tuesday, G4S publicly denied the claims in a series of tweets.
"There is categorically no G4S policy to house asylum seekers behind red doors," they said on Twitter.
The security group also announced that Jomast has agreed to repaint front doors in the area to "address the issue."
It said in a statement: "Our subcontractor Jomast has no policy to house asylum seekers behind red doors, although they do accept that the majority of doors, for both private and asylum accommodation, are painted red.
"Although we have received no complaints or requests on this issue from asylum seekers we house, in light of the concerns raised Jomast has agreed to address the issue by repainting front doors in the area so that there is no predominant colour."
You can share this story on social media: