600 Brits caught trying to join ISIS, other jihadists in Syria – UK foreign sec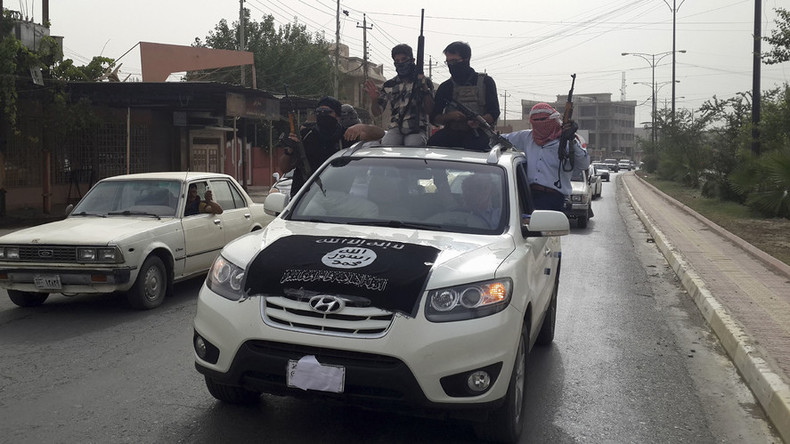 Some 600 British citizens have been caught trying to enter Syria in order to join Islamic State (IS, formerly ISIS/ISIL) and other jihadist groups over the past four years, Foreign Secretary Philip Hammond has said.
"Approximately 800 Brits have been to Syria, of whom half are still there," Mr. Hammond told The Guardian during a visit to Turkey. "But on top of that 800, we have stopped another 600," he added.
The UK Foreign Secretary reportedly said there had been a spike in the number of Britons stopped in Turkey thanks to a revision in UK-Turkish security cooperation in the past eight months, allegedly stemming from Ankara's reassessment of the scale of the threat posed by ISIS to the Turkish economy and society.
Hammond said the interception of foreign jihadists attempting to join Islamic State and other Islamist groups was putting additional strain on the group in its de-facto capital, Raqqa.
"There is evidence [IS] is finding it difficult to recruit to the brigades in Raqqa because of the high attrition rate of foreign fighters," he said. "Not just those targeted in UK drone strikes, but US strikes against prominent targets including foreign fighters."
Turkey appears to be one of the main routes into Syria for UK jihadists. Out of the at least 50 UK jihadists known to have died fighting either for Islamic State or Al-Qaida's Syrian branch, Jabhat al-Nusra, almost all traveled into Syria through Turkey, The Guardian reports.
According to a recent investigation by the daily, IS ran a complex border operation in Tel Abyad, on Turkish-Syrian border, between December 2014 and March last year. The documents, handed over to the newspaper by the Syrian Kurdish forces, reportedly showed that passengers arrived on busses from Turkey and submitted their IDs before being allowed admission into the IS-held territory. The seven manifests contain the names of 70 people – men, women, even infants – that had crossed into the town. The system was cut short only after Kurdish forces took the town from Islamic State in June and Turkish authorities finally sealed the crossing.
To avoid suspicion from authorities, prospective IS recruits have been since then reportedly advised to travel to a second or third country before ending up in Turkey.
READ MORE: Turkey blockades Syrian Kurdish areas surrounded by ISIS (RT EXCLUSIVE)
Turkey has established a strict blockade of the Kurdish regions in Syria surrounded by Islamic State, depriving Syrian Kurds of vital supplies and shooting people trying to enter Turkey from Syria, RT's Murad Gazdiev reported earlier this week.
The Turkish border with the Kurdish territories in northern Syria, which stretches for some 750 kilometers, has been fitted with two layers of barbed wire, a huge minefield, and sniper towers. It has only two border crossings, and they are closed most of the time.
"They [Turks] do not let anything across: neither food, nor humanitarian aid, nor medicine. They only let returning refugees cross," Hadir Mustafa, the head of one of the border crossings on the Syrian side, told RT.
"The Turkish soldiers do not cooperate, they are aggressive and hostile. They push, hit people and tell them to never come back," he added.
RT's correspondent reported that Turkish border guards had even refused to let an ambulance cross the border that was transporting a man critically injured in a terrorist act in a nearby Syrian Kurdish town, saying they needed to receive permission from Turkish provincial authorities first.
Meanwhile, a captured Islamic State militant, who spoke to Sputnik news agency earlier this month, bolstered claims that Turkey has been involved in illegal oil deals with the jihadist group up to the hilt. Mahmud Ghazi Tatar, 23, the former IS fighter, revealed details about Turkey's alleged oil links to the terror group.
"At the training camp in May 2015, our commander told us that the group sells fuel to Turkey. That income covers Islamic State's costs. The oil trucks crossing into Turkey every day carry crude oil, as well as petrol," Tatar said, adding that the Islamic group has "enough oil to last them a long time."
Turkey strongly denies it has any links to the terrorists whatsoever.
You can share this story on social media: