MP gives Vulcan salute to transport spaceport beyond final frontier – to Scotland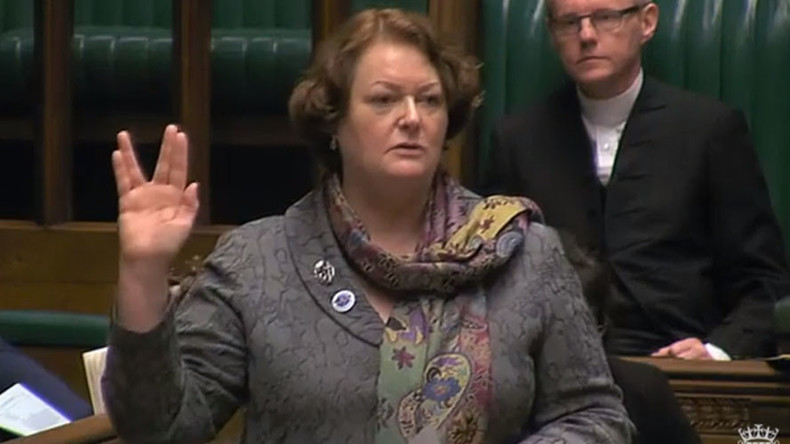 SNP MP Philippa Whitford gave the House of Commons a Vulcan salute on Friday in an effort to beam Britain's spaceport up to Scotland.
Whitford's nod to Star Trek came as William Shatner and George Takei, two stars of the original sci-fi TV series, backed the Scottish Nationalists' bid to establish Europe's first spaceport in the UK north of the border.
The MP led the debate on the issue in the UK parliament, during which she made the case for a spaceport to be built in her constituency of Central Ayrshire.
She called on Conservative ministers to be imaginative and – despite the paucity of Tory votes in Scotland – "boldly go where no minister has gone before."
Whitford said: "During the election, whenever I talked to anyone about this they would always just laugh because to us in this country we think space is for other people, it's for the big boys: North America, Russia, maybe even China – but not us."
She added: "That is something we have to change. We need to believe what we can do. I think Major Tim Peake's mission will achieve that. This is a real industry, not the 'Beam me up, Scotty' or fretting about the dilithium crystals that we see on the telly, but a multibillion-pound industry.
"So I'd call on the minister to be imaginative and to be brave and to be boldly going where no minister has gone before. I call on the minister to please be imaginative, enable this industry across the entire UK so it can live long and prosper."
Whitford signed off with the Vulcan salute, a hand gesture associated with the character Mr Spock from the original Star Trek.
Star Trek star George Takei, who played Lieutenant Sulu in the series, tweeted his support for the SNP's debate.
William Shatner, the legendary Captain James T Kirk in the 1960s series, went one step further – issuing a statement that was read out in parliament.
"Space is one of the last known frontiers mostly untouched by mankind and his politics," Shatner said in his address to MPs.
"In opening a debate on this subject, my hope is you take the tenets of Star Trek's prime directive to universally and peacefully share in the exploration of it. I wish you all a wonderful debate. My best, Bill."
SNP Philippa Whitford ends her speech on space policy by calling for it to "live long and prosper" - and includes the Vulcan salute...

— Richard Wheeler (@richard_kaputt) January 14, 2016
The Department for Transport is developing a technical specification of spaceport requirements before it opens up to proposals from companies.
SNP members, such as Patrick Grady MP, have touted Scotland as the ideal location for the UK's first spaceport.
"The building and operation of a spaceport in Scotland would bring investment and jobs to the local area and likely attract further space industry organizations and companies in the long term," he said.
"This is an exciting time for space exploration with huge public interest – not least as a result of Major Tim Peake's captivating mission to the International Space Station, itself the result of global cooperation, ambition and foresight. It is vital that we make the most of this opportunity."
You can share this story on social media: