Class A Kinder surprise? Eggs 'stuffed with cocaine' found stashed in London pub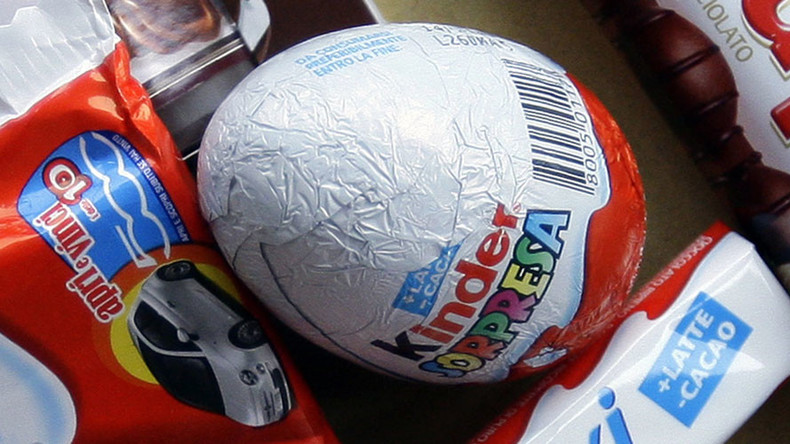 Chocolate Kinder eggs stuffed with bags of white powder believed to be cocaine were found stashed in a pub in London during a police raid, it has emerged. The pub now faces a review of its license.
During several routine police checks, officers discovered drug-filled chocolate eggs hidden in bins and bricks around Jono's Pub in the north west of London, according to the Evening Standard.
A number of "suspicious looking" people around the pub were also found to be in possession of Kinder eggs stuffed with the Class A drug.
In a police search in November, sniffer dogs found suspected cocaine bags wrapped in lottery tickets inside yellow Kinder Surprise eggs.
In a separate search in May, two men were arrested after one was found in possession of a chocolate egg filled with drugs.
In an effort to tackle the issue, police wrote a letter to licensing officer Nick Mortimer to say the pub had turned a "blind eye" to drug dealing.
Last year, police officers were called to the pub to deal with violent brawls, theft and burglary.
It now faces a review of its license, with owner Kenneth McCormack ordered to attend a Brent Council meeting on January 21.
Officers accused McCormack of a "complete disregard" of the conditions of his pub.
In documents provided to Brent Council, police said: "As a result of several incidents police have no faith in the ability of the management to operate the premise responsibly under the current authority and therefore wish to bring the matter before the sub-committee for consideration.
"Police are primarily concerned with the severity of the crime and disorder occurring from the venue as a result of complete disregard of the existing conditions."
Police have called for the pub to hire more bouncers to guard its doors from 9pm onwards.
This is not the first time drugs have been smuggled in food. Last year, €15 million worth ($16.4 million) of cocaine was uncovered in an Aldi delivery in Berlin.
You can share this story on social media: