Hammond presses Turkey on refugee aid – despite UK's tiny response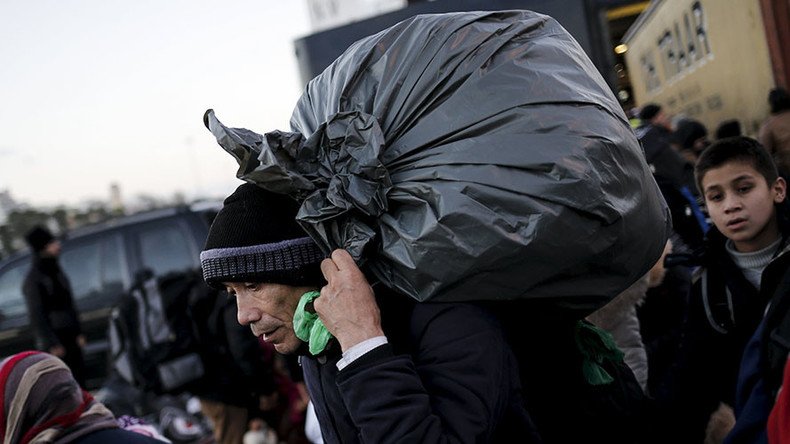 UK Foreign Secretary Philip Hammond is pressing the Turkish government over its perceived lack of action to stem the flow of Syrian refugees fleeing Islamic State (IS, formerly ISIS/ISIL) to the European Union via Greece.
He will also offer Britain's solidarity in the wake of an IS bombing that killed 10 people in Istanbul earlier this week.
Hammond met with President Recep Tayyip Erdoğan and Foreign Minister Mevlüt Çavuşoğlu in Ankara. His visit comes as Britain offers further support to the UN's refugee agency, UNHCR, despite itself only offering to resettle 20,000 Syrians in five years.
Before the trip, Hammond praised Turkey for housing more than 2 million Syrian refugees and expressed his hope that a donor conference in February will raise extra funds and create further international cooperation.
"Turkey, a NATO ally, is a vital friend to the UK and critical partner in tackling Islamist extremism, as we have seen tragically in Istanbul this week," he said.
"We will be discussing how we can work even more closely together in tackling the flow of foreign fighters and funding to Daesh [IS]," he added.
Turkey has already been promised €3 billion by the EU to try and stem the flow of Syrian refugees entering Europe. Erdoğan argues the country has faced huge disruption as the bloody civil war in Syria continues.
Turkey also says it is trying to integrate more refugees.
There are an estimated 1.9 million refugees in Turkey, including 1.7 million Syrians. Half of the refugees are children and most of them do not attend school.
The Turkish government says it will hand out some work permits to refugees so they can begin to make a life in Turkey, and act as deterrent for those attempting to reach Europe.
On Thursday, the British government offered resources and expertise to the UNHCR to help the process of resettling 20,000 Syrian refugees in the UK between now and 2020.
Britain has offered to rehouse Syrians as part of the Syrian Vulnerable Person Relocation (VPR) scheme, which was set up last year. Those accepted will be hand-picked from camps surrounding Syria, not those already in Europe.
The government said the VPR will need "scaling up" in order to rehouse the 20,000 refugees and have offered skills to the UNHCR.
Richard Harrington, UK Minister for Syrian Refugees, said: "We stand ready to provide additional expertise to assist the UNHCR in its vital work identifying those people in desperate need of our help.
"As the UK prepares to welcome the first arrivals under our expanded Syrian refugee scheme, I am driving forward intensive work to ensure these individuals have all the support they need.
"The scale of the expansion needs careful and meticulous planning to ensure we get it right. This week I chaired a meeting of more than 20 NGOs and partner organizations, who are all focused on working with us to find ways to support these refugees."
British efforts pale into insignificance in comparison to other European states, which have opened their doors to hundreds of thousands of migrants and refugees in the past year. Germany alone has accepted around 1 million refugees since the beginning of 2015.
You can share this story on social media: