Rhodes statue protesters: 'Oxford University is institutionally racist'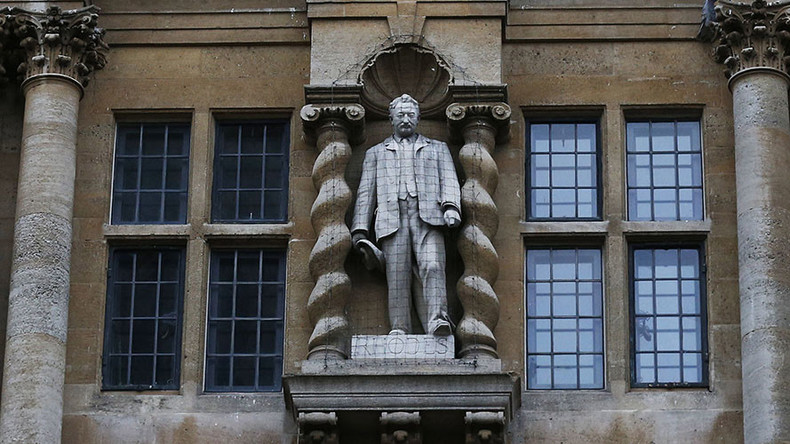 Oxford University Chancellor Chris Patten has dismissed calls from student campaigners to remove a statue of colonial-era politician Cecil Rhodes from of the university's Oriel College as an attempt to rewrite history.
Patten, whose role at the university is largely ceremonial, said in a speech Wednesday: "Our history is not a blank page on which we can write our own version of what it should have been, according to our contemporary views and prejudices.
"Because we value tolerance ... we have to listen to those who presume they can rewrite history within the confines of their own notion of what is politically, culturally and morally correct."
Patten's comments come after the campaign to remove the statue by the group "Rhodes Must Fall" made headlines in recent weeks. The campaign was launched in May, shortly after a statue of Rhodes, who has been described as the father of apartheid, was removed from the University of Cape Town in South Africa following a mass campaign.
Commenting on Patten's remarks, Sizwe Mpofu-Walsh, a PhD student at the university and one of the founding members of Rhodes Must Fall, told BBC's Radio 4: "We think Oxford is institutionally racist and throughout its history it has had significant biases towards black people. The first black student was only accepted in 1938."
The reaction of the leaders of Oxford University to the #RhodesMustFall nonsense has been quite heartening. Yale and Princeton take note.

— Toby Young (@toadmeister) January 13, 2016
Oriel College has said it will hold a six-month consultation exercise with students on what to do with the statue. The college has already announced it plans to take down a Rhodes plaque on a property owned by the college.
In a letter to the Guardian, a group of around 200 Rhodes scholars said the scholarships won't "buy their silence" about Rhodes' problematic legacy.
"There is no hypocrisy in being a recipient of a Rhodes scholarship and being publicly critical of Cecil Rhodes and his legacy," they wrote.
Rhodes, a diamond magnate and imperialist, played a central role in Britain's colonial expansion in Africa. After his death, Rhodes bequeathed a part of his fortune to Oxford to establish the prestigious Rhodes scholarship.
You can share this story on social media: