Anti-fracking protesters arrested as UK police storm camp (VIDEO)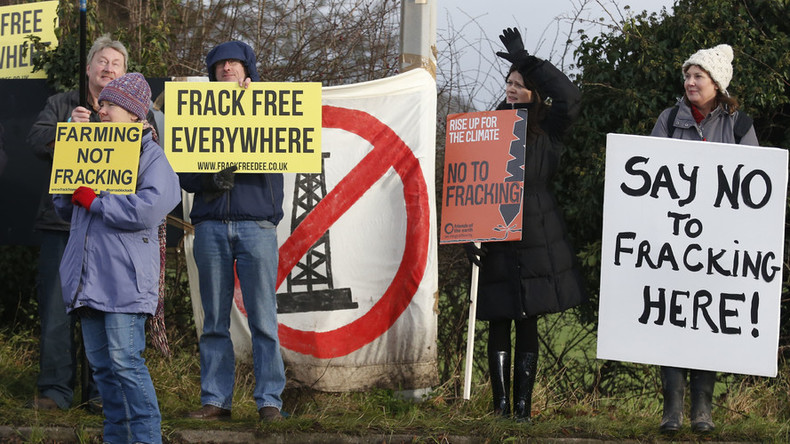 Nine activists who oppose the controversial fracking technique for extracting gas from the ground were arrested by UK police Tuesday.
Protestors took control of the site at Duttons Lane in Upton near Chester in April 2014 and operated the longest running anti-fracking camp in the country.
The Upton Community Protection Camp had been fortified with a number of tunnels, scaffolding, treehouses, and a moat.
IGas Energy was eager to commence the drilling of exploratory wells in search of natural gas, because its planning permission at the site was due to expire in May.
READ MORE: Fracking hot: N. Dakota man 'sets tap water on fire'
Instead of protecting the land from pollution and local residents from flammable tap water, the High Court agreed to evict the activists in November 2015 with a large number of police and bailiffs sent in this week to clear the camp.
Members of Frack Free Upton, Frack Off, and the Extreme Energy Action Network used non-violent forms of protest to resist the eviction by locking themselves to various structures.
The eviction lasted seven hours and, while no injuries were reported, power tools had to be used to remove protesters including one woman who was locked to a concrete block, the Chester Chronicle reports.
Ruptly also managed to capture the removal of one man who was locked to scaffolding.
The group says "the vast majority of the local community and the camp residents are strongly opposed to the drilling" and "85 percent of the residents within 2km of the drill site do not want fracking."
Police issued more than 20 dispersal notices during the operation, meaning a number of people were barred from being at the site for a set amount of time.
"I can't believe the scale of it," one protester told the Chronicle. "The amount of police, police vans, helicopters, bailiffs is outrageous for the number of peaceful protesters here."
READ MORE: Anti-fracking hunger striker demands audience with David Cameron
IGas, whose revenue totaled £58.2 million in 2014, cost taxpayers up to £1 million for policing another site near Manchester in 2014.
The two-month protest there saw up to 100 officers policing the site frequently, even though there were only 30 protesters, the Independent reported.
Several countries, regional governments, and US states have banned fracking including France, Tunisia, the Canadian province of Quebec, and Northern Ireland.
UK MP Caroline Lucas from the Green Party explained why she risked arrest in 2013 at a fracking protest.
"This is part of the much bigger debate about the future habitability of our planet," she wrote in statement published by several UK media outlets. "The widespread use of shale gas is quite simply incompatible with the Government's international commitments to keep global warming below two degrees."
You can share this story on social media: