Impending financial crisis will destroy Eurozone – City strategist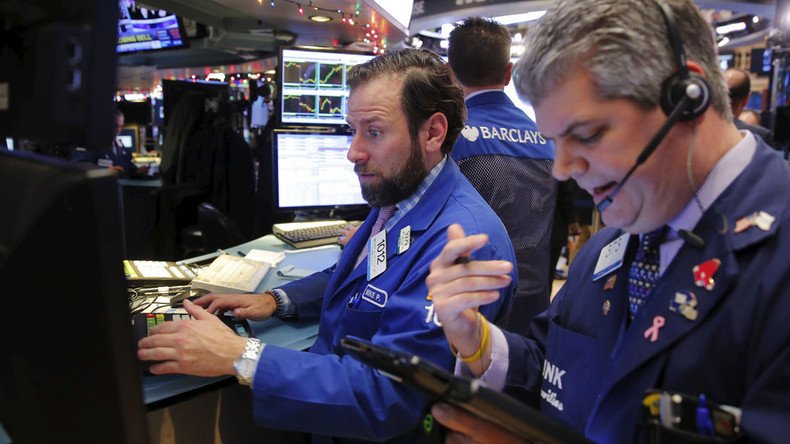 The global economy is heading for financial a crisis as crushing as the 2008/09 collapse, which could be "very ugly" and foreshadow the end of the Eurozone, one of London's senior financial analysts has warned.
Speaking at an investment conference in London, Albert Edwards, strategist at Société Générale, said deflation from emerging market economies is likely to hit western trading, and that financial institutions are unaware of the impending difficulties.
"Developments in the global economy will push the US back into recession," he said.
"The financial crisis will reawaken. It will be every bit as bad as in 2008-09 and it will turn very ugly indeed."
Edwards also considers any potential crash as a harbinger of doom for the Eurozone, which has suffered a crippling few years but was considered to be showing signs of recovery.
"If the global economy goes back into recession, it is curtains for the Eurozone," he said.
His comments come after a year of turbulent oil prices. Last summer the price of oil fell rapidly, with Brent currently trading at just over $30 a barrel.
Last week analysts at the Royal Bank of Scotland urged investors to "sell everything" in anticipation of another crash.
"Can it get any worse? Of course it can," said Edwards, a noted financial pessimist. "Emerging market currencies are still in free fall. The US corporate sector is being crushed by the appreciation of the dollar."
He added that the "incredible conceit" of bankers who failed to learn from the lessons of the previous financial crash would lead to another global recession. Edwards also said the US economy is far more precarious that the US Federal Reserve believes.
"We have seen massive credit expansion in the US. This is not for real economic activity; it is borrowing to finance share buybacks," he said.
"They didn't understand the system then and they don't understand how they are screwing up again. Deflation is upon us and the central banks can't see it."
Edwards also warned the US dollar could follow in the footsteps of the Japanese yen in the 1990s, when the rapid rise pushed Japan into deflation. He also pointed out the falling demand for credit in China is a signal the global financial situation may take a turn for the worst.
"That happens when people lose confidence that policymakers know what they are doing. This is what is going to happen in Europe and the US."
You can share this story on social media: