Syrian refugee mothers urge British women not to take children to join ISIS (VIDEO)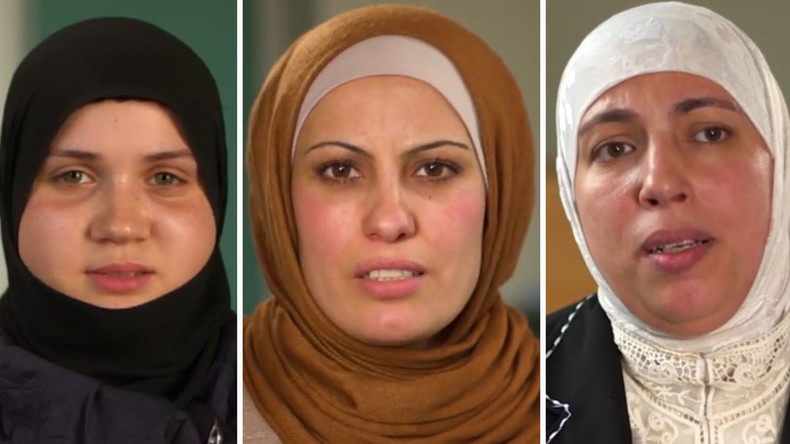 Mothers who managed to escape war-torn Syria have sent a message to British women thinking of traveling to the country, warning of the dangers posed by Islamic State (IS, formerly ISIS/ISIL) and the ongoing civil war.
Created in conjunction with the Metropolitan Police and charity Families Against Stress and Trauma (FAST), the video shows three women explaining why they left Syria.
"We were living under very bad circumstances and it was getting worse by the day," says Fatten, one of the refugees. "My son couldn't get the medical treatment he urgently needed."
Another of the women, Isaaf, says: "Your children are now living in security (in Britain), are provided with schools, a nice life and beautiful future. So why are you taking them to a war zone?"
The third mother, Zakka, says that she feels Syria is "the wrong place to bring up children."
The film has been released as new figures reveal 56 British women and girls were reported missing to police in 2015 amid fears they had traveled to Syria.
Counter-terror officers hope the video will encourage women to spot potential threats of radicalization and prevent their children going to Syria to join extremist groups, adding that mothers can play an important part in preventing radicalization.
A survey conducted last year found that 66 percent of 11-25 year olds interviewed would speak to their mother if they believed someone they knew was at risk of being radicalized or was considering traveling to join an extremist group.
Deputy Assistant Commissioner Helen Ball said: "We are deeply concerned about the numbers of girls, young women and also families who are taking the decision to go to Syria, unaware of the dangers they face when they arrive and the fact that they are unlikely to ever be able to return home to their devastated wider families.
"The personal accounts of the women in this film highlight the harsh reality of life for women and children living in a war-torn country. I hope they will go some way to helping young women and mothers stop and think about the huge mistake they would be making if they travel."
In February 2015, three London schoolgirls made headlines when they fled the UK and travelled to Syria. Shamima Begum and Amira Abase, both 15, and Kadiza Sultana, 16, are believed to have married Syrian extremists in the country.
You can share this story on social media: