Councils failed to spend millions intended for impoverished people – report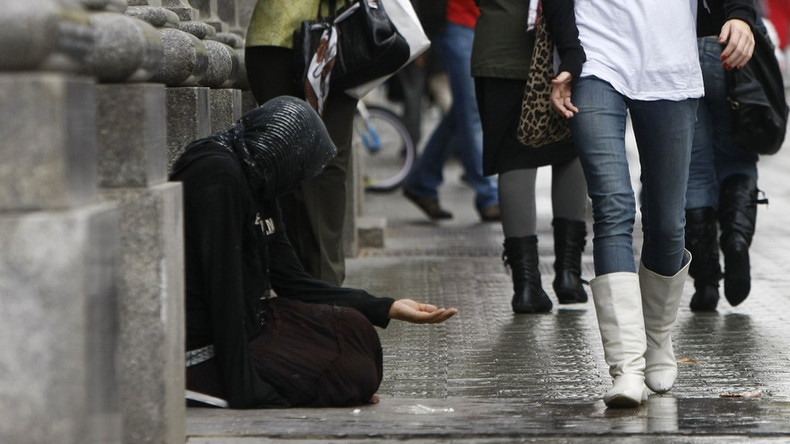 Local authorities in the most deprived parts of England have held back on spending millions of pounds in taxpayers' money that was intended to offer emergency support to people who are plagued by poverty, a report has concluded.
Analysis published by the National Audit Office (NAO) on Tuesday reveals councils in the poorest parts of England spent less than fifty percent of the funds allocated to them to help impoverished residents who urgently required food, heating and clothing.
As a result, many of the people were forced to rely on charities providing vital services such as foodbanks, while local authorities retained the money that had not been spent.
Withholding funds
Britain's Department for Work and Pensions (DWP) gave grant funding of £347 million (US$500 million) to single-tier and county councils to fund local welfare provision between 2013 and 2015. The funding was supposed to address impoverished people's welfare needs after community care grants and crisis loans had been scrapped.
However, the NAO's report revealed 80 percent of local authorities did not spend all of the funding they were allocated for welfare provision in 2013-14, while 25 percent did not expect to use it all in 2014-15. The DWP was also found to have spent less on advances and loans it gave after April 2013.
The NAO said councils had adopted a cautionary approach in their design of welfare support, as they were worried about high levels of demand and unsure about funding after 2015.
Local authorities the NAO spoke to admitted setting rigid eligibility criteria and limiting public awareness of the financial support that was available. But they insisted they were spending less than their allocated budget to help fund welfare needs in 2015-16 in the face of government cuts.
Charities reported a spike in demand for their services in areas where councils had cut back and expressed concern they might not be able to meet extra demand if local welfare provision is terminated.
'Future of welfare provision uncertain'
The NAO's report found that many councils did not collate data on applicants and their requirements, while local authorities that did made limited use of this information. The study also said councils' understanding of the effectiveness of their spending on welfare provision at local level is limited.
The NAO warned that the future of welfare provision appears ambiguous. With scant resources and conflicting pressures, many local authorities say they cannot afford to continue offering current levels of welfare support in the absence of sufficient government funding.
Councils told the NAO a considerable proportion of the applications they dealt with for local welfare support were from residents who had faced financial crises.
They noted benefit delays or sanctions, switching between different types of benefits, and transitioning from benefits to the workplace as being primary drivers of this financial hardship.
While the NAO's report revealed that the DWP offered assistance to councils to develop a strategy for local welfare provision, councils said this help was of limited use.
The NAO's report called for improved co-ordination between national and local forms of welfare support.
Government funding shortfalls
National Audit Office (NAO) chief Sir Amyas Morse said councils are spending less on discretionary local welfare now than they were in 2013, which could lead to unknown results.
"The consequences of creating this gap in provision are not understood, either in terms of impact on vulnerable people or of creating potentially costly additional care or medical needs in the longer term."
Councillor Claire Kober, the Local Government Association's resources portfolio holder, conceded the scope and range of welfare support varies across the country.
"This variation has been driven by the significant funding shortfalls faced by many councils across the country and the government's often piecemeal approach to funding the local safety net," she said.
NAO report finds richest councils spend 62% funds to help people needing food, heating and clothing. Poorest 25% of councils spend 45%

— Heather Wakefield (@hibiscuits1) January 12, 2016
"We recognize that more can be done to identify and share good practice but the ability to tailor schemes to local circumstances has raised the overall standard of support available to those in need," Kober said.
"Instead of continuing to provide separate money for local welfare assistance, the government wants councils to find the £74 million funding it provided last year from existing budgets at a time when they face huge financial challenges. This will put additional pressure on existing council services."
The NAO's report comes as Britain's Work and Pensions Select Committee warns that people facing destitution must contend with a "postcode lottery" for emergency help. The committee says this is due to spending cuts and a failure to properly allocate the responsibility to local authorities.
The committee is calling for Whitehall to ensure better co-ordination is put in place to guarantee those affected by welfare reforms are not left without vital social safety nets.
You can share this story on social media: